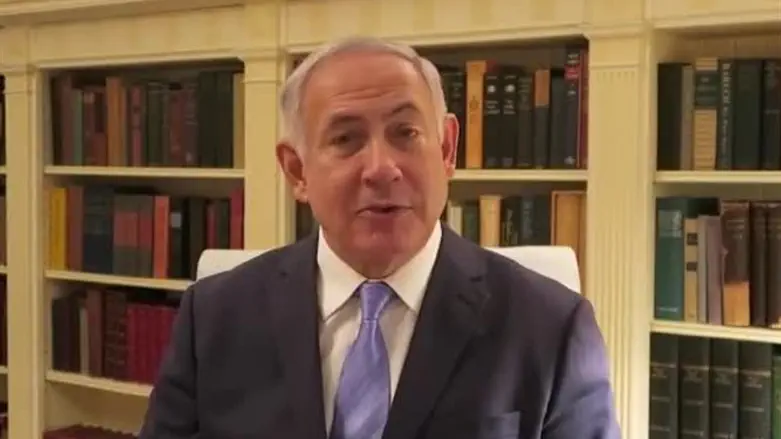 Netanyahu in New York
Spokesperson
Prime Minister Binyamin Netanyahu defended his recent criticism targeting the police and the judicial system, saying that he was forced to defend himself from the relentless media attacks against him and his family.
"We are attacked all the time, every hour, every minute," Netanyahu said during a question and answer session with reporters at the United Nations. "The prime minister is also allowed to stand up for justice. I will not be silent, I'm telling the truth."
"I'll tell you the truth that maybe people are not comfortable hearing. There is sympathy from the public, for me, my wife, and my family. There is a sympathy I do not remember. "

Netanyahu also said that he felt his support growing among rank and file Israelis. "Listen to the citizens of Israel, the citizens of Israel in numbers, not all of them, but in large numbers, they support me and my wife, and they want justice."
Netanyahu had attacked the police on Wednesday for their "industry of state witnesses" they used to try and incriminate him. "When there is something real, you don't need a single state's witness, and when you have nothing, not even a thousand state witnesses will help," Netanyahu said.
"This obsessive pursuit after one state's witness, then another and another just proves there's nothing here."
Netanyahu also alleged that police were pressuring witnesses to lie and provide damaging testimony against the prime minister. "They take people whom they accuse of having committed some crime. They put them under custody, put them through horrors, and say to them, 'Your life is over. Your family's life is over. We will take nearly everything from you, your freedom too. You want to be saved from all this? There is one way — to disgrace Netanyahu,' he said.
Netanyahu's accusations came after his former spokesperson Nir Hefetz signed an agreement with prosecutors on Monday to become a state witness in the Case 4000 investigation. The probe centers on allegations that Netanyahu sought a deal with Shaul Elovitch, the controlling shareholder of telecoms group Bezeq, which would have seen Netanyahu receive good press on Elovitch's Walla! news website in exchange for business concessions.