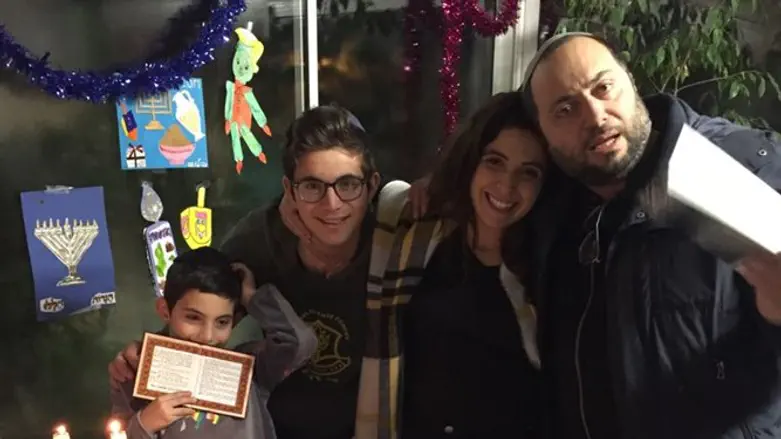 Shana Cohen lghting candles with her family in France
Courtesy of the family
Three months after 18-year-old Shana Cohen immigrated to Israel as part of the "Atid Hemdat" program run by the Hemdat Hadarom Academic College of Education, residents of a southern town raised money to send her back to France.
Cohen missed her family, and wanted to travel to Marseilles, France, to spend the Hanukkah holiday with them and celebrate her younger brother's birthday, but no one had the money to pay for the ticket. In response, the residents of Kfar Maimon in southern Israel decided to raise the money for the ticket.
Within a day, they had met their goal.
Rabbi Eli Kenig, who heads the Atid Hemdat program, said, "I live in Kfar Maimon, and told the story on our town's WhatsApp group. It didn't even take a few days - between Friday and Saturday night, I received the entire sum necessary for the plane ticket, for a total of 2,000 NIS ($569) from good people."
Just before boarding the plane, Shana sent Rabbi Kenig a text message.
"I can't stop crying from happiness! I don't know how to tank them! I don't understand how people who don't know me, and have never met me, can do me such a huge favor! Tell them that I feel as if I had stars in my eyes. The Jewish nation is an amazing nation! And your town is also amazing! Thank you for my little Hanukkah miracle! I love you all so much!"
The Atid Hemdat program is a one-year program for young women immigrating to Israel from France, and aims to help them settle in Israel. Participants tour historical sites in Israel, visit the Knesset, spend Shabbats (Sabbaths) in Hevron, Jerusalem, and towns and kibbutzim all over Israel, and more.
The Cohen family's Hanukkah menorahs in France
Courtesy of the family