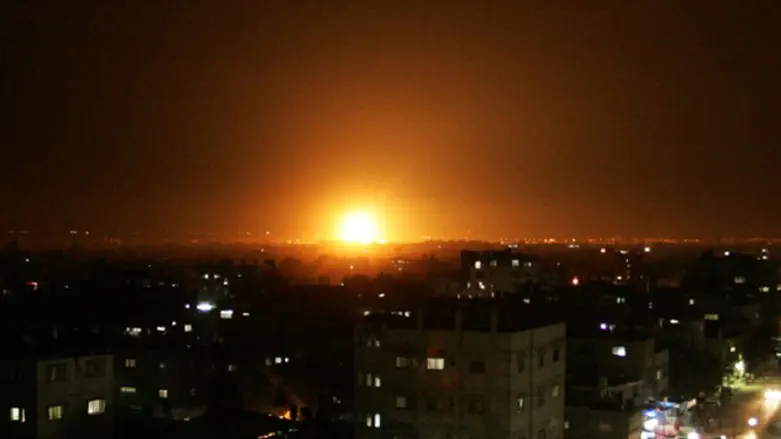 IAF airstrike in Gaza (archive)
Flash 90
The Israel Air Force (IAF) on Friday night attacked two terrorist targets in Gaza, the IDF Spokesperson's Unit said.
According to the statement, the targets were a training compound and a weapons depot, both belonging to the Hamas terrorist organization.
"The Hamas terrorist organization is solely responsible for what is happening in the Gaza Strip," the statement stressed.
The airstrikes came hours after Gaza-based terrorists fired at least two rockets towards southern Israel.
Sirens were heard in the Shaar Hanegev Regional Council, Sdot Negev Regional Council, Hof Ashkelon Regional Council, Eshkol Regional Council, and Sderot, shortly after 6:00 p.m.
Shortly thereafter, the Iron Dome anti-missile system intercepted one rocket that was fired from Gaza towards southern Israel. There were no reports of physical injuries or damages.
Less than an hour later, a second siren was heard in the Sdot Negev Regional Council and Bnei Shimon Regional Council in southern Israel.
The IDF subsequently confirmed that a second rocket has been fired towards Israeli territory. It is unclear whether it exploded in Israel.
On Thursday, two rockets fired from Gaza exploded in Israel. Both of the rockets landed in open spaces. There were no reports of injuries or of damage.
Hours later, the IDF retaliated for the attack, hitting two positions held by terrorists in the region.
The rocket fire comes after the Hamas terror organization, which rules Gaza, warned that the "gates of hell" would be opened in the region following President Donald Trump's announcement that the U.S. recognized Jerusalem as Israel's capital.
(Arutz Sheva's North American desk is keeping you updated until the start of Shabbat in New York. The time posted automatically on all Arutz Sheva articles, however, is Israeli time.)