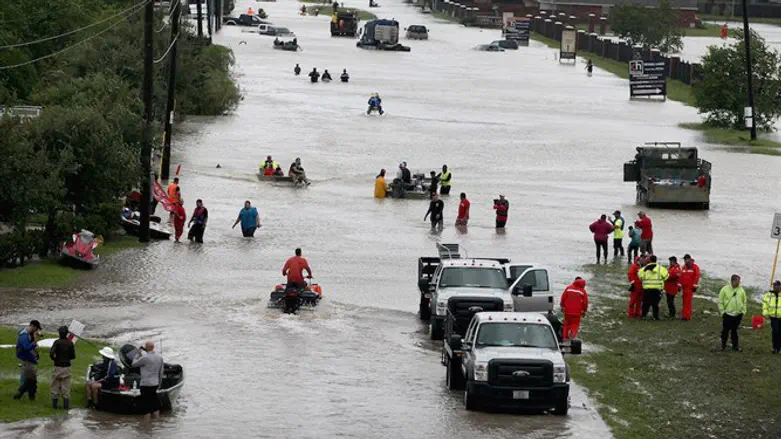 People making their way out of a neighborhood flooded by Hurricane Harvey
Scott Olson/Getty Images
A Texas town requires those applying for post-hurricane aid to affirm that they do not and will not boycott Israel.
The website for Dickinson, Texas, is accepting applications for individuals and businesses who need assistance following the devastating August hurricane. According to the application, those who sign must verify that the applicant "(1) does not boycott Israel; and (2) will not boycott Israel during the term of this Agreement."
The application appears to be in line with a state law, signed in May, prohibiting state agencies from contracting with companies that boycott Israel.
Also in May, governors of all 50 states signed a pledge to reject the Boycott, Divestment and Sanctions (BDS) movement against Israel.
Refusing to do business with a country is not protected speech, and longstanding laws forbidding support for foreign state boycotts of Israel apply to the business transaction, not the political motivations. If anti-boycott laws are considered unconstitutional, Americans are free to violate existing sanctions preventing business with countries like Iran, Cuba or Sudan.
Israel sent several teams to Texas to help with hurricane relief, and three Israeli rescue organizations - Magen David Adom, ZAKA, and United Hatzalah - sent personnel to help victims. Some of these volunteers remained in Texas for several weeks after the hurricane. IsraAID also sent volunteers, and the Israeli government donated $1 million in aid to Harvey's victims.