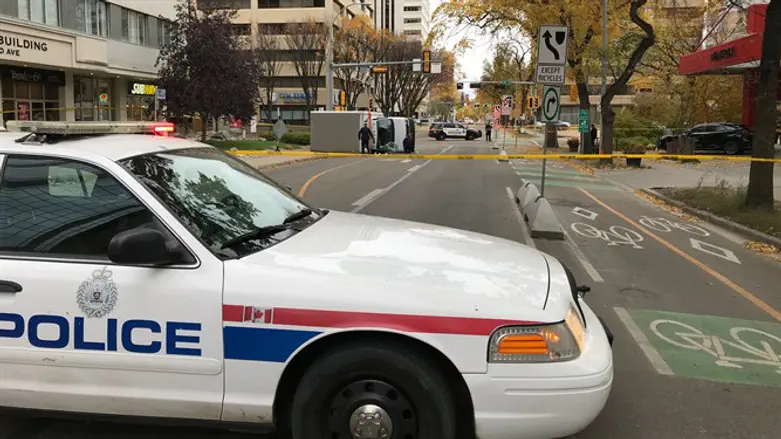 Edmonton Police at scene of attack
Reuters
Canadian police said on Sunday that a suspect arrested following Saturday night's attacks in Edmonton was a Somali national seeking refugee status, Reuters reported.
Police declined to provide his name but said authorities had investigated a complaint in 2015 that he was espousing extremist ideology.
He was released after police had determined that he did not pose a threat at the time, according to the report.
A police officer and four pedestrians were injured in the attacks, in which two vehicles and a knife were used.
Authorities believe the attacker acted alone.
A graphic surveillance video showed a Chevy Malibu hitting a police officer standing in front of a football stadium at about 8:15 p.m. on Saturday, sending him flying into the air. The driver gets out of the car and appears to stab the officer multiple times before fleeing.
A flag of the Islamic State (ISIS) group was found inside the Malibu, after the suspect ran off.
"To the best of our knowledge, this was a lone wolf attack," Edmonton Mayor Don Iveson told reporters on Sunday. "There's no immediate cause for panic or concern."
Canada has not experienced as much jihadist violence as the United States and Western European nations, but there have been several deadly incidents in recent years.
In January, a French-Canadian university student was charged with murder after six people were shot and killed inside a Quebec City mosque, in what Trudeau called "a terrorist attack."
In August of 2016, Canadian police raided an Ontario home and killed Aaron Driver, who was in the final stages of planning an attack on a major urban center.
ISIS later said that Driver was a "soldier" of the group.
In March of that year, a Muslim man stabbed soldiers at a Toronto military recruitment center in March, and later claimed under interrogation that "Allah" told him to carry out the attack.
In October of 2014, a terrorist shot and killed a soldier near the Canadian parliament in Ottawa.
That attack came a week after a 25-year-old who converted to Islam rammed his car into two soldiers in the Quebec town of Saint-Jean-sur-Richelieu and was shot dead by police. One of the soldiers later died.