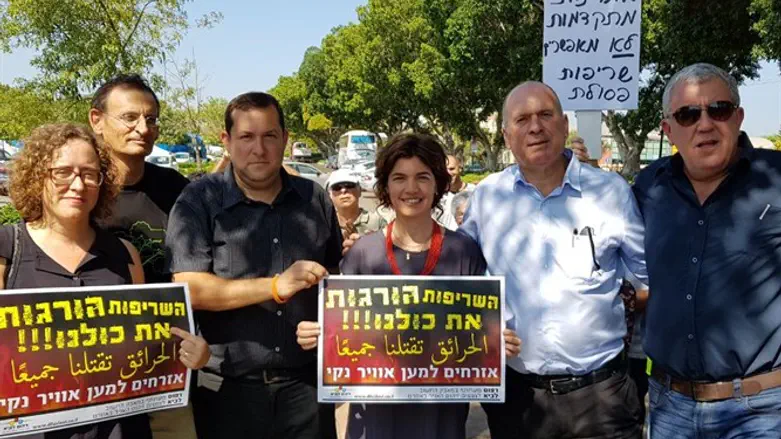 The demonstration in Kfar Saba
Ro'i Hadi
Jews and Arabs, left and right, protested on Friday morning in the central city of Kfar Saba against the trend of burning garbage.
Participating in the demonstration were Likud MKs, Samaria Regional Council heads, Arabs from the central Arab city of Qalansawe, and extreme leftist Meretz and Arab MKs.
The protesters stood near the Ra'anana Soccer Stadium, demonstrating against the Israeli government's lackadaisical attitude towards the fires, which harm both humans and the environment. Slogans included, "The smoke is killing us all" and "Enough suffocation."
Various Knesset members, council heads, the demonstration's organizers, and others, gave speeches.
MK Dov Khenin (Joint Arab List) said this battle is "a battle for life an a battle for health. The trend to burn garbage in this area is intolerable, and we need to end it. The good news is that we see a nice turnout of residents of both Jewish and Arab towns, who are working together to make a change. If this fight continues, we will be able to win."
Meretz MK Tamar Zandberg said that "thanks to the public's battle, we are your representatives and we are here to help you fight more easily. There are leaders from every political sector here. Unfortunately, this problem harms everyone and does not make differentiate based on political beliefs."
Samaria Regional Council Head Yossi Dagan said, "This demonstration is colorless. We are all here: Arabs and Jews, left and right, and we are all standing up for the basic right of breathing clean air."
"It is unthinkable that our children will pay the price for this lax attitude. Children in the Sharon region and children in Samaria have suffered from breathing problems for several years because of this failure to act. No one speaks out, and no one says a word."
For several years, Arabs illegally burning waste at pirate garbage dumps have polluted Samaria's air. In October 2016, the Knesset's Interior and Environmental Protection Committee met to discuss the issue, but no steps were taken. Last month, officials decided to advance a joint project to help fight the damage the unregulated landfill causes to the environment and the region's residents, but did not disclose details.