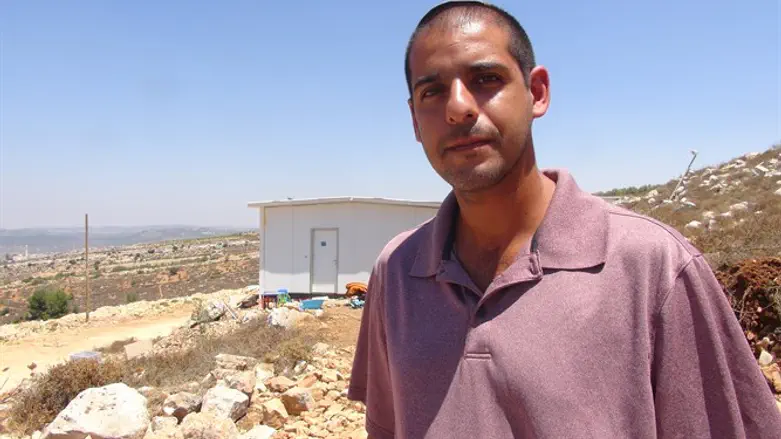 Matan Benita in Sde Boaz
Eliran Aharon
The Israeli Supreme Court is scheduled to rule imminently on the four houses in the Sde Boaz outpost, and resident Matan Benita hopes that the state will uphold its promise to legalize the outpost.
"I would not have invested my money on just anything," Benita told Arutz Sheva. "Former Defense Minister, Moshe (Bogie) Ya'alon gave us his promise. I am optimistic and believe that the state will come to its senses and fulfill its promise"
"Ya'alon undrerstood that if we are not here, that would cause a big security problem for communities like Neve Daniel and Elazar, who connect Jerusalem with the Ezion bloc. That is why he promised us to legalize Sde Boaz" Benita continued.
In 2012, in coordination with then-Minister of Defense Moshe Ya'alon, the residents of the community agreed to evacuate four structures, and Ya'alon promised in return to work for legal planning and proper normalization of Sde Boaz.
Since then, no progress has been made by the Civil Administration regarding the governmental promise given by the Minister.
Last Wednesday, Supreme Court Justice Uri Shoham issued a temporary injunction preventing the demolition of structures in the community of Sde Boaz in Gush Etzion until a different decision is made. The structures were slated to be demolished the day after the injunction.
The community of Sde Boaz was established 15 years ago, near Route 60 south of Jerusalem.
An extension of the community of Neve Daniel, over the years the community planned and built houses, roads and infrastructure with the help of NGOs for building the land of Israel and the Gush Etzion Regional Council. The established homes house families with children (about 30 families and about 100 children in the entire community).
The state has a history of reneging on its promises to Judea and Samaria residents. In 2012, Prime Minister promised senior Religious Zionist figure Rabbi Zalman Baruch Melamed to build 300 housing units in Bet El if the residents would peacefully evacuate Bet El's Ulpana neighborhood, which was slated for demolition. No such units have been built.
Residents of Migron who were evicted from their homes in 2012 are still waiting for the government to implement its decision from 2012 to establish a permanent neighborhood at nearby Givat Hayekev.