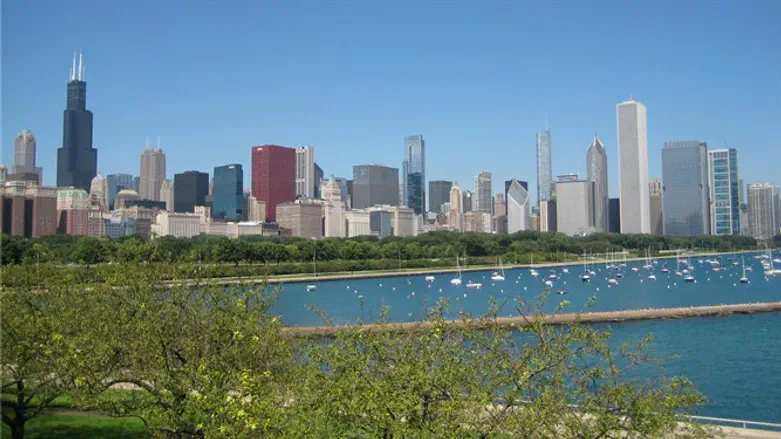 Chicago (file)
Tova Dvorin
Israeli lawmakers who vote for a conversion bill making its way through the Knesset are not welcome in Chicago, said a top Jewish leader there, in a declaration that illustrated US Ambassador to Israel David Friedman's criticism of Reform Jewry's reactions to the bill.
"The federation in Chicago will not be hosting any member of Knesset that votes for this bill. None. They will not be welcome in our community," Steven Nasatir, president of the Jewish United Fund/Jewish Federation of Metropolitan Chicago, told The Times of Israel in an interview published Tuesday.
On Sunday, government ministers approved a bill that would require the state to recognize only conversions conducted under the auspices of the Chief Rabbinate, the central religious authority in Israel since its establishment.. The conversion bill, drafted last month by Interior Minister Aryeh Deri, head of the Sephardi Orthodox Shas party, would nullify Israel's recognition of conversions performed by private Orthodox rabbinic courts, overruling a Supreme Court ruling recognizing those conversions. Reform and Conservative conversions performed in Israel have never been recognized.
Deputy Defense Minister Rabbi Eli ben Dahan, for many years in charge of the Religious Courts in Israel, explained on Israel Radio that the main reason for the law was to prevent wildcat conversions of infiltrators and foreign workers now in the country who would use conversion as a way to gain automatic Israeli citizenship.
The bill will move to the Knesset plenum, where it must pass three readings.
"We're past the time when we're standing and applauding and being nice because they're members of Knesset or because they hold this position or that position," Nasatir, who has been an associate member of the Jewish Agency's board of governors since 1993, also told The Times of Israel. "People who don't have the understanding of what this bill means to the Jewish people — God bless 'em, but they're not welcome in our community, period."
Nasatir, whose federation last year allocated over $29 million for beneficiaries in Israel and overseas, said he would not be surprised if the Jewish federations of other cities followed suit.
He and the heads of the Jewish communities of New York and Cleveland, as well as Jerry Silverman, the head of the Jewish Federations of North America, and the Jewish Agency's Michael Siegal, met Monday night with Israeli Prime Minister Binyamin Netanyahu to discuss the conversion bill, as well as a government decision to freeze an agreement to create an official egalitarian prayer section at the Western Wall.
Nasatir said that Netanyahu and his staff "underestimated" the reaction of Diaspora Jewry to the decisions. Diaspora Jewry, by definition, does not live in Israel nor vote in its elections or serve in its army.
The Chicago leader, however, adimitted he has not received any calls or emails from Jews in the city seeking to cancel donations or planned trips to Israel.
"That doesn't mean that I may not have some waiting for me when I come home," Nasatir said. "This transcends dollars; this is about a relationship, this is about unity. This is about being pained by bad decisions that impact the Jewish people.
"When people are pained, sometimes they react in different ways. I expect that I may have to deal with some of that, but not a whole lot."