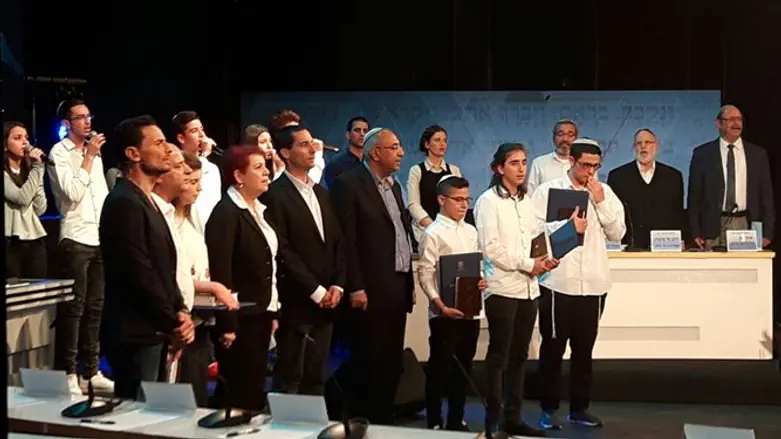 Certificates to Bible Quiz contestants
Racheli Yifrach
The International Bible Contest for Jewish Youth will again be held this year on Independence Day at the Jerusalem Theater starting at 11:00.
Each year, 16 contestants compete for the male and female titles of World Champion, in Hebrew called the Bible's "bride" and "groom".
The contestants are:
Naomi Cohen, Israel;
Nadav Sahar, Israel;
Shlomo Helfgot, USA;
Sagiv Lugasi, Israel;
Uriel Simpson, USA;
Maria Spielwitz, Belarus;
Calev Gitlitz, USA;
Natan Snobel, Canada;
Shaul Yosef, South Africa;
Yitzhak Narkis, Panama;
Shira Ring, Belgium;
Matan Harel, Israel;
Binyamin Shor, Canada;
Yehuda Shani, Brazil;
Denya Rener, Mexico;
and Sharon Tosia, Mexico.
Contestants from Israel competed in the regional Bible quizzes and the national quiz organized by the Education Ministry, while contenders from various Diaspora venues competed in quizzes organized by the Jewish Agency in those countries, followed by the Bible Quiz for the Diaspora that was held in Israel in recent days.
The quiz will be held in the presence of Prime Minister Binyamin Netanyahu, Knesset Speaker Yuli Edelstein, Education Minister Naftali Bennett, Jewish Agency Chairman Natan Sharansky, Chairman of the Zionist Organization Avraham Duvdevani, JNF Chairman Danny Atar, and Director General of the Education Ministry Shmuel Abuhav.