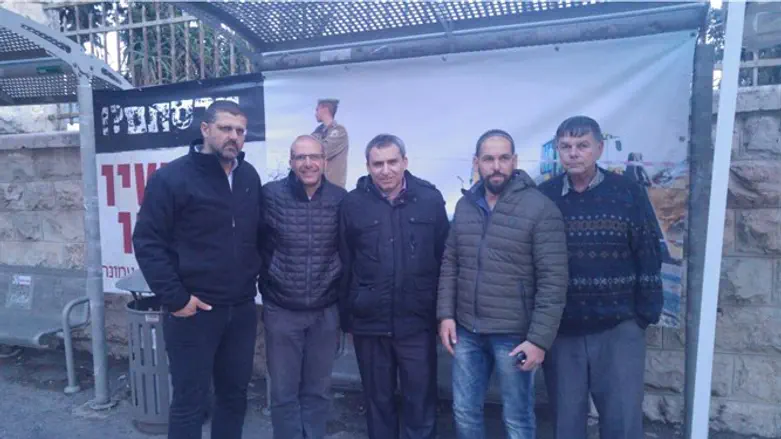 Elkin at protest tent
Struggle for Amona Staff
Environmental Protection and Jerusalem Minister Zeev Elkin last night visited former Amona residents at a tent in front of the Prime Minister's house, where the evictees have been holding a hunger strike against the government's failure to fulfill its pledge to build a replacement community for them.
Amona activists praised the Minister's visit, the first visit of solidarity by a Likud Minister since the hunger strike began 14 days ago.
Elkin said during the visit, "I have no doubt that the government is obligated to fulfill the agreement which was signed with the residents and establish for them a new community as quickly as possible."
"I know that the Prime Minister is obligated to fulfill the agreement; that subject was deliberated upon many times between us in recent weeks. According to the original agreement, a formal plan for the establishment of a new community must be in place by March 31, and I will work with all my strength so that these obligations will be fulfilled, " he added.
The evictees related to Elkin their apprehensions. "The Prime Minister met on Monday with US envoy Greenblatt and is not aiming to finish the matter of establishing a new community. True, on every stage he declares that he promised and he will fulfill, but in practicality nothing is moving and we, 300 children, youth, men and women, are still stuck in a youth dormitory after two months, two weeks for which part of us have been holding a hunger strike. Enough - let Netanyahu conclude this issue already, if he is really so obligated to it."
Today, the Prime Minister is to meet with US envoy Greenblatt a second time. "We requested from Elkin," added Avihai Buaron from Amona, "and last night we called on all Likud Ministers, to demand from Bibi today during the ministerial meeting that he simply tell the Americans, 'I am establishing this community immediately.' He should notify and not wait. He simply needs to move from words to action."