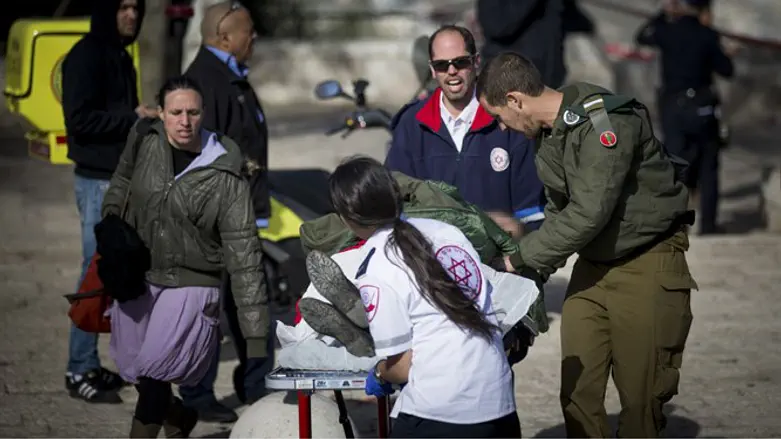 Scene of Jerusalem truck attack
Yonatan Sindel/Flash 90
An investigation conducted by the IDF following Sunday's murderous truck attack at the Armon Hanatziv neighborhood of Jerusalem has found that a number of cadets opened fire at the terrorist, at which point one of the commanders ordered the rest of the cadets to take cover and stay away from the scene.
The investigation comes amid allegations that the soldiers who were at the scene were afraid to shoot at the terrorist who perpetrated the attack, in which an officer and three cadets were murdered.
There were hundreds of soldiers in the area when the attack occurred, about to take part in an educational program about Jerusalem as part of their training. The Haas Promenade, where the attack took place, overlooks the historic City of David. Surveillance footage showed many of the soldiers running away from the scene after the attack began.
Tour guide Eitan Rond, who shot and killed the terrorist who carried out the attack, told Army Radio that he was shocked that none of the soldiers reacted by shooting the terrorist.
"I do not know why 40 soldiers did not open fire. I have no doubt that if they had opened fire immediately, we would have had fewer injuries." Rond said.
Some have speculated that the reason many of the soldiers fled the scene was due to fear of being prosecuted like IDF soldier Elor Azariya if they shoot the terrorist.
On Sunday evening, however, Noam Kadar, a cadet who was present at the scene of the attack, rejected those allegations and said that the soldiers' running from the terrorist had nothing to do with the Azariya case.
"Please stop listening to unsubstantiated reports by those who run to publicize rubbish and distorted information. Please stop spreading views which are based on baseless lies. Please stop trying to sell psychological explanations about what went on when I saw a truck run over my friends. OK?" Kadar wrote on Facebook.
"Don't any of you dare to compare a semitrailer driving at 100 kilometers an hour (60 miles an hour) to a terrorist lying prone. Nobody was scared to shoot, people were scared to be run over because a terrorist had run amok with murder in his eyes," she added.