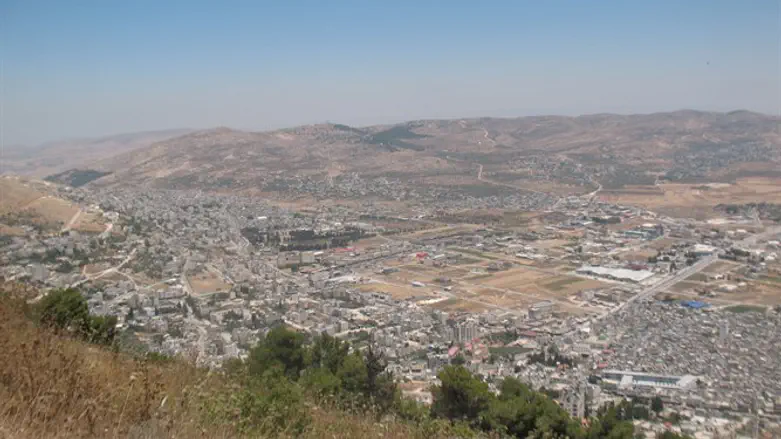 Illustration: View from the hills of Samaria
Kobi Finkler
MK Oded Forer (Yisrael Beytenu) proposed a law removing illegal building from the list of internationally immune activities, in an attempt to stop the EU's illegal Palestinian building in Area C. The EU has been funding illegal Arab construction in Area C against the signed Oslo Agreements, aiding local Arabs to slowly encroach upon land that is not theirs.
Area C is under complete Israeli civil and security control. Its future is to be decided in a final peace agreement. All Jewish towns in Judea and Samaria are built in Area C while only 4% of Palestinian Arabs live there. Ninety-six percent of Palestinian Arabs are self-governing and in Areas A or B under Palestinian Authority control. It is illegal for Jews to enter Area A and B and large red signs warn drivers not to enter, after two soldiers who made a wrong turn several years ago into the Area A city of Ramallah were murdered and mutilated in cold blood inside a police station and their murderers' bloody hands raised to the windows before an exuberant and applauding Arab crowd numbering over 1000.
Jewish Home Education Minister Naftali Bennett's has proposed that Israel apply sovereignty over Area C and annex it.
If Forer's law passes, Israeli authorities would be able to sue the EU for illegally building Palestinian Arab structures in Area C.
Forer is expected to submit his proposal in the near future.
"This proposal was born after we were forced to deal with illegal building in Area C, which is under full Israeli control. We've seen a lot of illegal Arab buildings bearing the EU logo, and that makes it more difficult for us to deal with them. They have international immunity."
MK Forer also said "the Immunity Law helps foreign countries anchor their rights and prevent themselves from being sued for various actions. The subject of illegal building can be explained in many ways, and it's not clear if it's included in the Immunity Law, because it's a criminal offense. In order to make it easier for the authorities to enforce the law, I am proposing an amendment to the Foreign Immunity Law, clarifying that the immunity does not extend to illegal building. As soon as my proposal becomes law, no one will be able to claim we can't touch the buildings because they have immunity."
In response to the claim that his law will not help, since Israel did not apply sovereignty to Area C and runs the area through an IDF civil administration, Forer says, "That's nonsense. At the end of the day, the EU ambassadors live and work within the pre-1967 borders, and the materials and buildings used to construct these illegal neighborhoods pass from places under Israeli sovereignty to Judea and Samaria."
"There's no question we'll be able to work against the illegal building. The EU's caravan is under Israeli sovereignty, near Ma'ale Adumim, and it came through the Ashdod port or other places along the way. We just need the legal abilities to fight this ugly trend that is happening in violation of every agreement previously signed, whether with the PA or Oslo," Forer concluded.
Forer also isn't concerned his law might be considered provocative.
"We shouldn't worry about European sympathies when we decide how to enforce laws. Our history shows that when we do what is right, the world stands behind us. We need to what we are legally bound to do, and if someone violates the law, whether they are an Israeli citizen or the EU, the legal system needs to drag him to court," Forer explained.
Forer's proposed law will affect both new buildings as well as retroactively affect those already built.
"You won't be able to hide behind the Foreign Immunity Law and commit building crimes. This is just one more tool the Civil Administration can use to enforce the construction laws in Area C," he said.