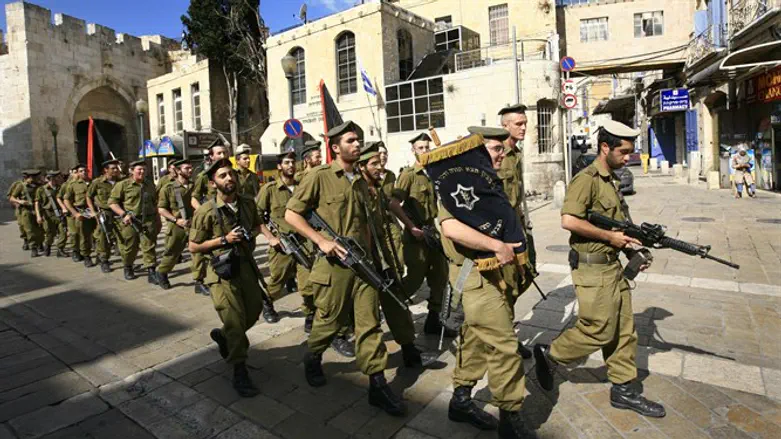 IDF march with Torah scroll
Photo: Nati Shochat/Flash 90
Head of the IDF donations and welfare branch Brig. Gen. Einat Ratz-Levi published new rules yesterday for donations to IDF bases.
The document acquired by Arutz Sheva also details rules for conducting Torah scroll dedication ceremonies in army bases.
Beginning this week, donors who wish to visit various IDF units must go through the Association for the Well-being of Israel's Soldiers (AWIS). Requests for coordination of visits will be submitted to the donations branch of the Personnel Directorate at least 3 weeks in advance.
Visits to bases for Torah dedication ceremonies will be allowed, as well as visits meant to strengthen the connection between the soldiers and people who donate to the IDF.
New limitations
Every visit, even for a Torah scroll dedication, will be limited to eight visitors. A military source said that if a family donating a Torah scroll wishes to bring more people, there can be exceptions made for small numbers of additional guests.
Every visit can include a tour of the base. Ribbon cutting will be allowed, and even ceremonial writing of the final letters in the Torah scroll together with a celebratory procession to the synagogue on the base, with the participation of the soldiers, will be allowed.
Additionally, picture taking with the unit commanders and small food spreads are permitted. The new directives do however prohibit the use of a specially decorated vehicle for the Torah dedication ceremonies.
Following the reports of the case in which 100 or so Air Force soldiers stood in the shape of the Google logo in honor of the Google Chairman's visit to their base in Hatzerim, the new directives rule that "no use is to be made of the soldiers in any visits other than for purposes of public relations or as part of their regular duties."
Special gatherings of the soldiers for the purpose of meeting with donors is also prohibited, but the donors may speak with the soldiers in the process of touring the facility.
Every visit is to take up to two hours, and no meals are to be scheduled. No military operation or show is allowed for the purposes of impressing the donors, and no gifts or donations are to be given out to the soldiers during the visit.