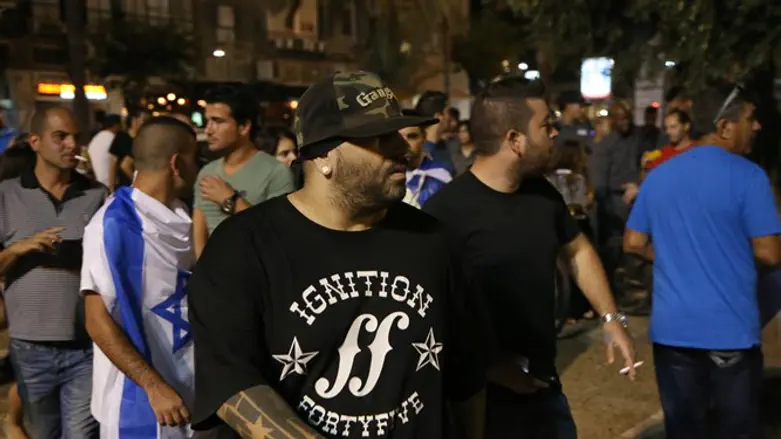 Yoav Eliasi, aka Hatzel
Flash 90
Popular right-wing rapper Yoav Eliasi, better known by his stage-name "Hatzel" - "the shadow", has joined the Likud party as a member, on the initiative of MK Oren Hazan, according to a report in the Yediot Aharonot newspaper this morning.
"Today we bring in a tremendous new power to the Likud," said MK Hazan with satisfaction, "we haven't been acquainted for long but I feel like Yoav is like my brother, which is why I call him Yoav and not 'Hatzel'. We have much in common. We both look at this Knesset and are appalled by the political correctness that's taken it over."
According to Hazan, the public is tired of the "cowardly and sycophantic left-wing discourse," as he puts it. "It's not without reason that Yoav has a quarter of a million people who follow him on social media. We're both clean of political correctness.
Eliasi complemented Hazan as well, saying "you're speaking here, and every word you say makes me want to shower you with Dollars. The Likud is constantly moving leftwards, sometimes it makes me want to vomit. It's time to make a change in the Likud."
The rapper was asked if he intends seek a place on the Likud's list for the Knesset in the next election. He answered that "right now I'm not where yet. But you can't know what'll happen in the future."
MK Hazan added, "I'm not afraid to think of him as someone who's worth maybe even five additional Knesset seats for the party. There are many Knesset Members whom I would replace with Yoav today."
Hatzel has been making fairly frequent headlines recently, being denied a gun license though he's received numerous death threats, and running afoul of various leftist Knesset Members, all due to his outspoken right-wing views.