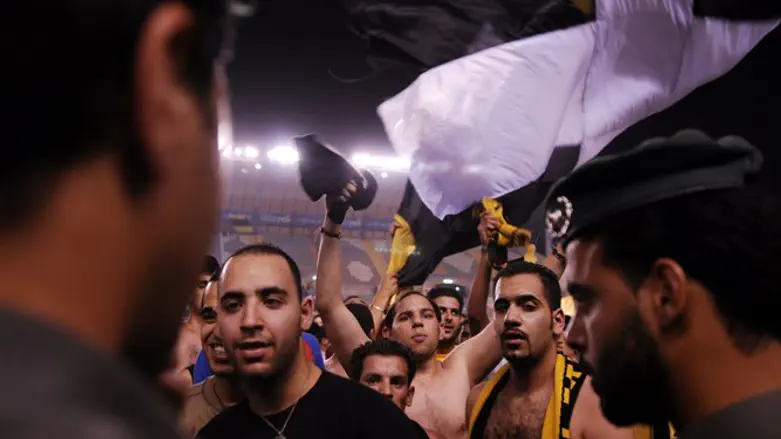 Betar fans
Ouria Tadmor/Flash 90
The violent fanatic faction of Betar Jerusalem fans is getting its comeuppance.
The police conducted a six-month investigation of the "La Familia" fan group - regularly associated with racist and violent acts, supposedly in support of the Jerusalem soccer team - using a covert agent who infiltrated the organization, and will testify as a state witness.
The agent's operation payed off with the arrest of 56 members of the group in the early hours of the morning.
The arrested individuals are suspected of aggravated assault, weapons dealing and smuggling illegal pyrotechnic equipment into the countries stadiums. In addition, the agent managed to gather evidence against 12 drug dealers operating in the north of Israel.
Over 400 regular and border policemen took part in the overnight raid, in which all the suspects were arrested simultaneously. Police confiscated 20 stun grenades, explosives, gas and smoke grenades, among other dangerous devices.
Police Commander Benny Avalia said today in an interview with Army Radio: "As far as I'm concerned La Familia is like a criminal organization. I'm familiar with the evidence, and it's serious. This won't end with light sentences of suspension from the stadiums for several months."
Minister of Public Security Gilad Erdan, praised the police for the complex and successful operation on his Twitter feed this morning:
"This step adds to my efforts, together with Sports and Cultural Minister Miri Regev, in establishing a new police unit which will focus on gathering intelligence and enforcing the law against violent elements in all of Israeli sports."
Mk Yoel Razvozov (Yesh Atid) head of the sports lobby, said that "Betar fans woke up this morning to a more sane future.
"Moments before the team continues its European campaign [in Europa League qualification], they received important news: This year they will be penalized less for the violent actions of that small faction, and I'm pleased for them. Now, the team's fans and their family members who had kept their distance from the stadiums can return and enjoy the soccer."
MK Razvozov, a former Olympic athlete, added: "I'm convinced that the judicial system won't disappoint and will take the evidence presented to them very seriously, punishing the offenders to the full extent of the law. The Israel Police has done well to take on my proposal to isolate and neutralize the small faction of fanatic fans in Betar and it would be wise for them to conduct similar operations among the fans of all the teams, until we completely eradicate violence from our sports stadiums."