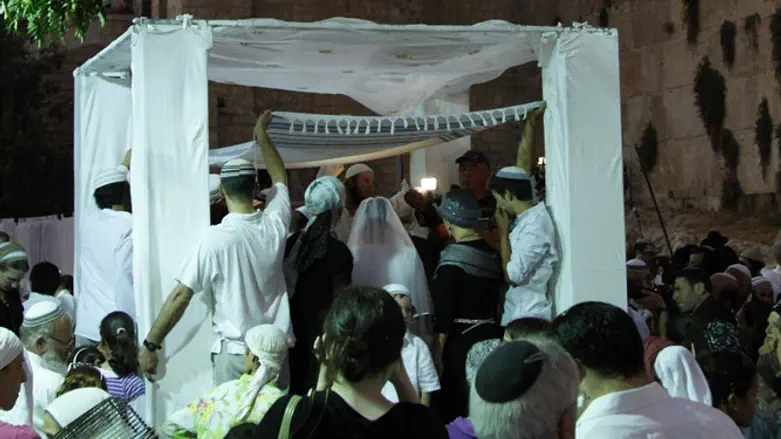 Wedding (illustration)
Flash 90
Ethan Zohn, the Jewish winner of the third season of "Survivor," was married in a traditional Jewish ceremony in Vermont.
Zohn, 42, married Lisa Heywood of New York City on Saturday, People magazine reported.
The couple married under a huppah and wrapped themselves in the tallit of Zohn's late father, Aaron.
Heywood, 47, wore a wedding gown by the Israeli designer Inbal Dror, who also designed the gown worn by singer Beyonce when she presented at the 58th Grammy Awards in February.
Zohn was diagnosed with Hodgkin's lymphoma in 2009 but is now cancer-free after receiving a stem-cell transplant from his brother in 2013. He was 14 when his father died of cancer.
While on "Survivor: Africa" in 2001, a fellow contestant called Zohn a "Jewboy." He told JTA after his victory that the contestant, as well as two others, had never met a Jewish person before. Zohn used his $1 million winnings from the show to help found Grassroots Soccer, an HIV/AIDS prevention program that connects professional soccer players with youth in Africa.
In 1997, Zohn qualified to play for the men's U.S. soccer team in the Maccabiah Games. Playing soccer in Israel was a dream come true, Zohn told JTA.