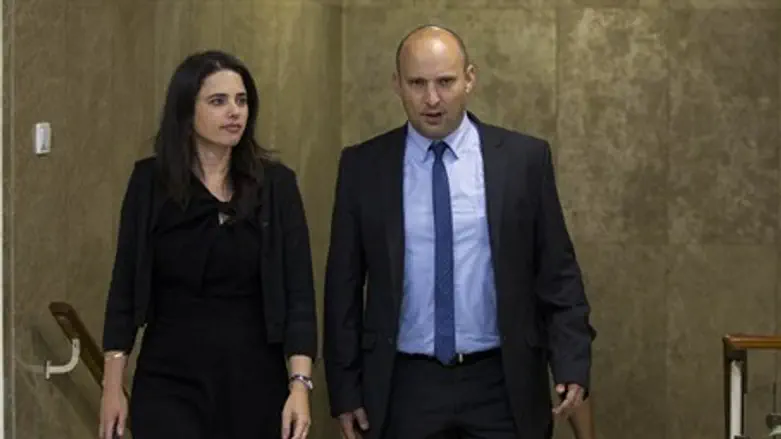 Bennett and Shaked
Flash90
Senior ministers from the Jewish Home party have indicated that they will vote against ratification of a deal to normalize relations with Turkey following six years of diplomatic tensions.
Jewish Home chief Naftali Bennett and Justice Minister Ayelet Shaked raised objections to the deal on Tuesday, citing the agreement's provision for a compensation package to Turkey and the lack of any binding requirement for Turkey to pressure the Hamas terror organization to return two Israeli captives and two fallen IDF soldiers killed in 2014.
The pair signaled their opposition to the deal after details of the agreement were disclosed to the cabinet.
The ministers decried the planned $20 million compensation fund Israel would be required to establish for Turkish citizens killed in 2010, after they attacked Israeli soldiers boarding a Turkish vessel attempting to break the Gaza blockade.
"Reconciliation with Turkey is important now, and an interest of the State of Israel," said Education Minister Bennett. "But at the same time," continued Bennett, "paying compensation to the perpetrators of a terrorist act sets a dangerous precedent that the State of Israel will regret in the future. Israel must not pay [the families] of terrorists who tried to harm the IDF."
"So long as Turkey holds influence over Hamas, they should do their utmost to ensure that [the fallen IDF soldiers] Oron Shaul and Hadar Goldin are returned to Israel."
Defense Minister Avigdor Liberman (Yisrael Beytenu), who has in the past slammed attempts to win Turkish support for normalized relations with a compensation fund, emphasized on Monday that his position had not changed.
"I don't see any reason to go back on my opposition to the agreement," Liberman told Yisrael Beytenu members during a faction meeting. "The compensation [package] has serious implications."
Despite the opposition of the Defense Minister and both ranking Jewish Home Ministers, observers predict the agreement will pass ratification in the cabinet on Wednesday.