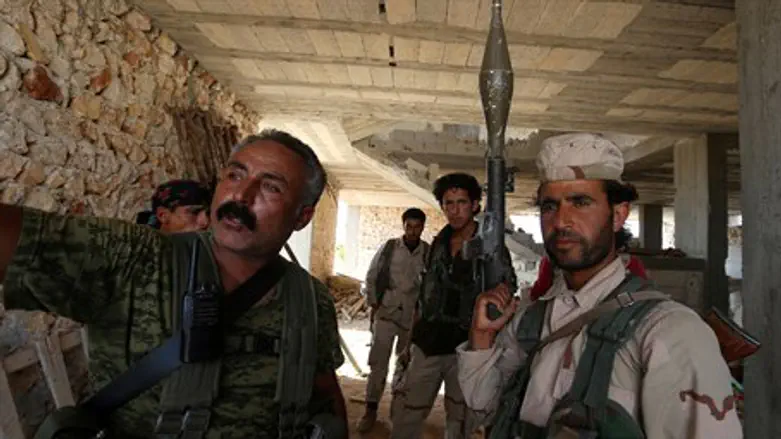 Syrian Democratic Forces fighters outside Manbij
Reuters
A US-backed alliance of Kurdish and Arab forces pushed Thursday into the Islamic State (ISIS) terror group's bastion city of Manbij in northern Syria, a monitoring group said.
Fighters of the Syrian Democratic Forces managed to enter the city with support from air strikes by a US-led coalition, the Syrian Observatory for Human Rights said.
"The SDF entered Manbij from the south under cover of coalition air raids," said Observatory chief Rami Abdel Rahman, whose Britain-based group relies on a broad network of sources inside Syria to monitor the country's conflict.  
He said there was "fierce street fighting between buildings" and that at least two SDF fighters had died when a bomb went off in a residential building.  
Abdel Rahman said the SDF was able to break through ISIS defenses a few hours after taking control of a village on the city's southwestern outskirts.
He said progress was likely to be slow as SDF forces were facing booby-traps "planted by the jihadists to try to prevent the loss of the city."
The SDF has faced fierce resistance from ISIS since launching the assault to take Manbij on May 31. It managed to encircle the city earlier this month but its advance slowed as ISIS fought back, including with almost daily suicide bombings.
The jihadists have held the city since 2014, the year ISIS seized control of large parts of Syria and neighboring Iraq and declared its "caliphate".  
Manbij, which had population of about 120,000 before the start of Syria's civil war in 2011, is a key stop on ISIS's supply route from the Turkish border to its de facto Syrian capital of Raqqa.
AFP contributed this report.