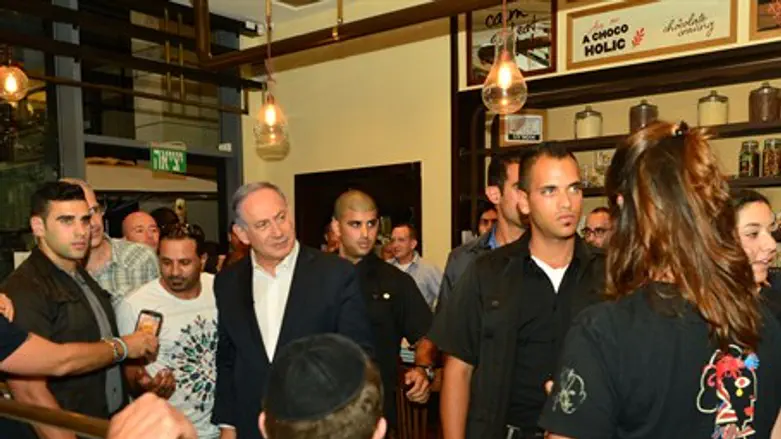 נתניהו הערב במתחם שרונה
צילום: קובי גדעון / לע"מ
Prime Minister Binyamin Netanyahu put a brave face on matters, one day after a horrific terror attack in the heart of Tel Aviv.
He visited the Sarona compound, where four Israelis were murdered at close range Wednesday, and said that an Arab man who collaborated with the terrorists has been arrested.
"Four innocent Israelis who committed no crime were murdered at this spot yesterday," he said. "We mourn their death. I know personally what terrible upheavals their families are now experiencing. Our hearts are with them and we wish the wounded recoveries."
"This nation is strong. They will not defeat us," he stressed. "Life goes back to its normal path all around us, and that is a good thing."
Netanyahu mentioned the steps taken against the village of Yata, from where the terrorists came. "We have surrounded Yata, we caught the man who assisted the murderers, we took away work permits from hundreds of their clansmen.
"We canceled thousands of permits to visit Israel during the Ramadan, we beefed up forces and we decided upon further steps that I will not elaborate upon here," he added.