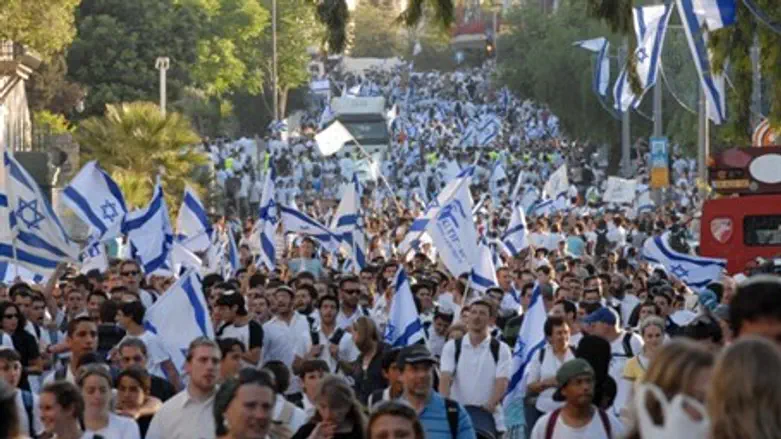 Rikudgalim
Flash90
A number of leftwing NGOs including Ir Amim and Tag Meir have called upon Israeli police this week to bar the annual Jerusalem Day "Rikudgalim" march from parts of the Old City.
The effort to prevent the march from passing through the Muslim Quarter of the Old City gained momentum this week when the "Yerushalmim" faction within the city council endorsed the proposed ban.
Vice Mayor Dov Kalmanovich and city board member Moshe Lion have wrote letters to Jerusalem District police and the mayor's office, imploring them not to interfere with the annual celebration.
"The Jerusalem Day march is held every year throughout the streets of a united Jerusalem and has become the central event of our city's holiday. Among other things, it symbolizes the unity of the city."
"This unity is expressed by the fact that thousands of people can march through the city streets, including places where IDF soldiers risked their lives on the way to the Temple Mount, in order to understand the special time [we live in] and the fact that we all can march in the streets in security and without fear."
Lion argued that changing the march's route would constitute a reward for those who wish to undermine Jewish sovereignty in Jerusalem.
"As someone who knows and appreciates the police and their work, I'm certain that order will be kept in the city's streets during the march, and that security forces will assist in maintaining the safety of marchers."
In his letter to Jerusalem Mayor Nir Barkat, Vice Mayor Kalmanovich also suggested that altering the march route constituted a victory for Israel's enemies.
"Giving in to terror sends a negative message that weakens the nation's strength. The majority of people in the State of Israel have declared their support for a united Jerusalem."
Kalmanovich suggested that the proposal by the Yerushalmim faction to alter the march route was part of a larger plan to achieve a de facto partition of the city.
"Radical leftwing groups like Ir Amim and Tag Meir are not part of the national consensus and I am amazed at how they [the Yerushalmim faction] have joined [to support] this leftwing proposal."