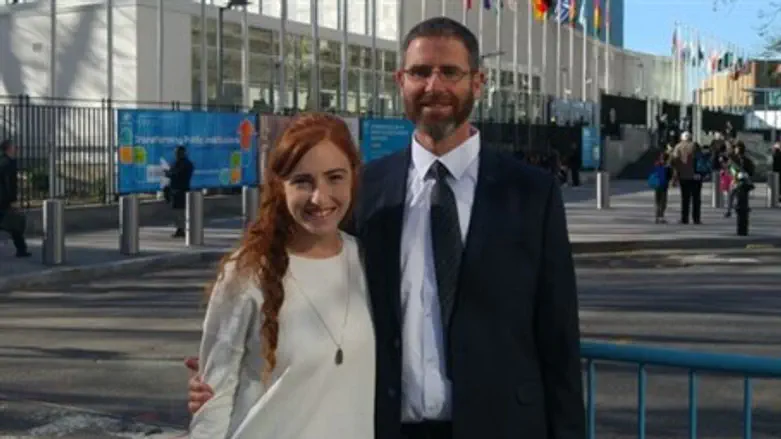 Natan Meir and daughter at UN
Photo: Public Relations
Natan Meir, husband of Dafna Meir who was stabbed to death in her home in Otniel, sent a letter to the United Nations (UN) Secretary-General, Ban Ki-moon, condemning his attitude and alienating him and his daughter, Ranana, during their visit to the UN.
The two were brought to the UN in New York by the OneFamily organization that supports terror victims and Israeli Ambassador to the UN Danny Danon, who clashed with the Palestinian representative to the UN during the visit over the latter's refusal to condemn terror.
"In our presence, the Palestinian representative complained that hundreds of Palestinian children are in Israeli prisons. One of the children he talked about murdered my wife! Despite the terrible scandal of misrepresentation, nobody prevented him from continuing his speech," wrote Meir.
"Israel's UN ambassador introduced me and my daughter and told our story. Not one UN ambassador bothered to come and comfort my 17-year-old daughter. No one came to shake our hands. No one called or met with us before or after. Not one letter. Even you, Mr. Secretary General, you were sitting at the front of that meeting and you did not open your mouth nor look in the eyes of someone in who is in anguish and pain."
"I, a citizen of the world. A simple citizen who painfully asks: How can the United Nations strive to be relevant when there is not a single drop of basic human compassion? How can delegates not look directly in the eyes of a man who has all the right to condemn another person? Where is the honesty? Where is the human aspiration that was the basis of establishing the institution you lead? Can such an organization prevent hatred, animosity and inequality?" wondered Meir in his letter.
He continued, "I know my place of residence is not acceptable to you and therefore controversy exists.  But you should know that many of my Arab neighbors who call themselves Palestinians sent me condolences, looked me straight in the eye and came to my house. They know and I know that we, the common people, will bring about peace."
Meir further asked for a change in perspective. "Dear Secretary-General, as the UN celebrates the rights of the Palestinians, they must also remember the Jewish national desire to reclaim their cities, which they have longed for thousands of years. Billions of people worldwide know of the Jews and their deep connection to the Biblical land of Israel. A peaceful solution must also take into account the dream of the Jewish people. "
"We have been allowed patiently to advance our shared lives for generations to come. If you still insist on helping, please help us to build bridges and connections between people without borders and fences," Meir concluded.