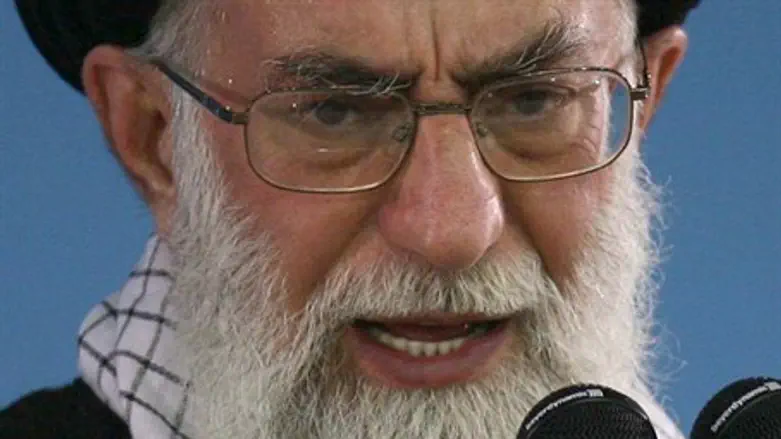 Ayatollah Ali Khamenei
Reuters
Iran's Supreme Leader, Ayatollah Ali Khamenei, on Sunday launched one of his verbal attacks against Israel, saying that defending "the Palestinian cause in the face of the Israeli regime" symbolizes defending Islam.
Khamenei made the remarks in a meeting with Ramadan Abdullah, the head of the Islamic Jihad terrorist organization, and was quoted by the state-run PressTV.
"Since from the very beginning, the Islamic Republic of Iran considered supporting Palestine as a duty, it will continue to fulfill its obligation in the future as well," he was quoted as having said, adding that "defending the Palestinian cause" is enshrined in the very nature of the Islamic Republic.
Khamenei also blasted the United States, claiming that it along with Western governments have initiated a war against the Islamic front in a bid to dominate the region.
"The [ongoing] developments in the region must be studied and analyzed from such a viewpoint, and within this framework, the issues of Syria, Iraq, Lebanon and Hezbollah are part of this large-scale confrontation," he said, according to PressTV.
Ayatollah Khamenei said the Islamic Republic continues to support the Syrian government "because those standing against Syria are in fact hostile to Islam in principle and are serving the interests of the U.S. and the Zionist regime."
He also highlighted the strength of the Hezbollah terrorist group, claiming the Israeli regime is more "fearful" of Hezbollah than before. 
Khamenei regularly attacks both Israel and the United States, which he and other Iranian leaders refer to as the "Great Satan".
In March, the Supreme Leader ruled out his country having ties with the United States or "the Zionist regime" – that is, Israel – claiming he had proof that the United States was planning a coup in Iran.
He also said that month that missiles, and not negotiations, will be a part of Iran's future relations with the outside world.