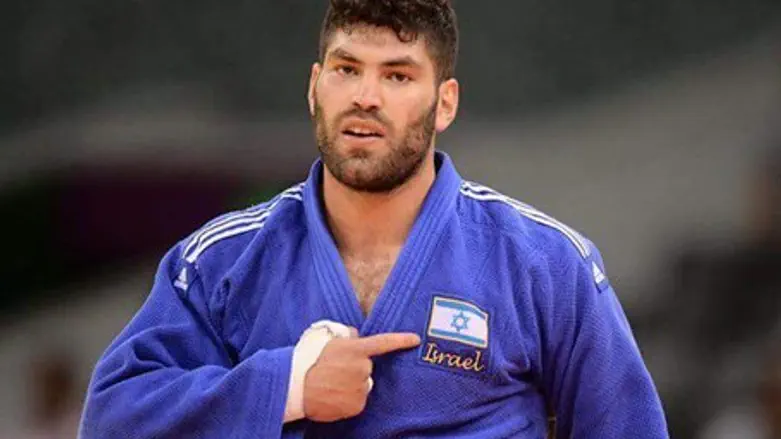 Or Sasson
Israeli Judo Association
Israeli judoka Or Sasson took home the silver medal on Saturday at the European Championships in the Over 100 kilogram category, just a month after he won gold at the Judo Grand Prix, held in the Georgian capital of Tbilisi.
Sasson was not the only Israeli to bring his nation pride in the European Championships in Kazan, Russia - Timna Nelson-Levy for her part won bronze in the Under 57 kilogram division.
For Sasson the win was even more meaningful, however, as this marks his second year in a row taking silver at the European Championships.
In his march to the finals, the Israeli judoka defeated three opponents, although in the final match he lost in a tough bout to Teddy Riner of France, who has won eight World Championships and an Olympic gold medal.
In reward for winning the silver Sasson will receive a special prize of 28,000 shekels (nearly $7,500) from a joint fund run by the Israel Olympic Committee, the Culture and Sports Ministry, and the Israel Sports Betting Board. His trainer Oren Smadja will receive half of the prize.
After winning silver, Sasson said it was "a very important achievement for me, and a step forward towards Rio," indicating the 2016 Olympics in Rio de Janeiro.
"I feel confident with the professional team that accompanies me headed by the national trainer Oren Smadja. I'm happy that I caused joy and happiness to the nation of Israel," added the judoka.
Smadja, the trainer for the Israeli male judo team, said, "the entire team proved its personality in the European Championships, the team and I support everyone and are proud of them."
"I'm happy that there is a medal for Israel in honor of the Passover holiday. For the men this is the fifth medal and I feel that the connection with the athletes is strengthening," said Smadja.