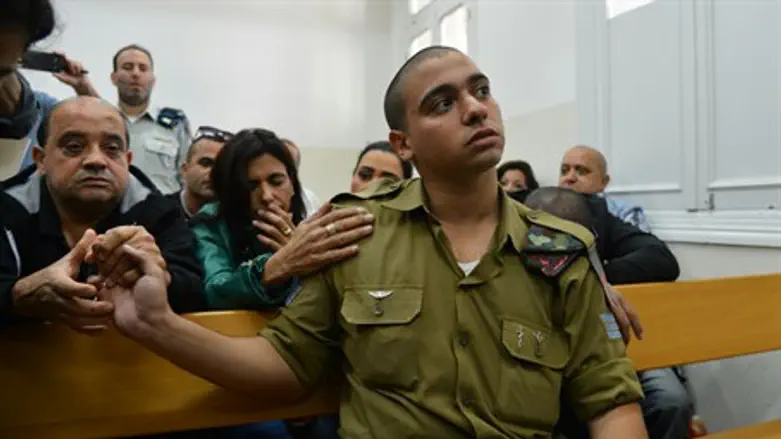 Elor Azariya in court with his parents
Flash 90
Defense Minister Moshe Ya'alon (Likud) on Monday afternoon toured the Sdot Negev region near Gaza, and spoke about the massive rally planned for Tuesday in Tel Aviv's Rabin Square supporting the soldier Elor Azariya who shot a wounded Arab terrorist in Hevron last month.
Ya'alon voiced his opposition to the protest, and took the opportunity to slander Azariya who earlier on Monday was indicted on manslaughter charges.
"We're not Da'esh (Islamic State - ed.), when there's a need to kill - we kill," said Ya'alon, indirectly libeling Azariya as an ISIS terrorist in a shocking comparison.
"But when it's someone neutralized or with their hands up, that's a place where it's important that we preserve our moral compass," continued the minister.
Ya'alon's insinuations of an ISIS-style execution aside, Azariya has testified he shot over concerns that the terrorist - who minutes earlier with an accomplice stabbed and wounded a soldier - was moving to detonate a hidden bomb belt. Other soldiers at the scene, a Magen David Adom (MDA) investigative committee and a CID officer have all confirmed that concerns of a bomb belt had not been ruled out.
In his comments Monday, Ya'alon concluded by saying those supporting Azariya are "impassioned and irresponsible voices."
"This is an attempt at manipulation. This is a political interest. Those who pounced on the court are gang leaders," concluded Ya'alon in harsh invective.
Ya'alon's comments are made all the more surprising given that he himself has been charged by Azariya's family and others with pouncing on the soldier, condemning him within hours of the incident before an investigation even began, and negatively impacting his chances of a fair trial.