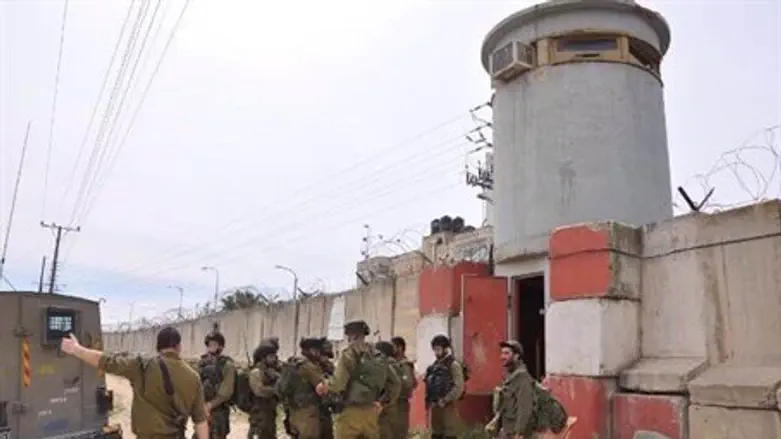 Drill on Highway 443
IDF Spokesperson Unit
The Ram Brigade of the Homefront Command, which this week entered operational activity with the Binyamin Battalion in the region surrounding Jerusalem, held a wide drill on Monday near the gas station on Highway 443 just northwest of the capital.
The gas station has become a perennial terror target in recent months. Just last November IDF soldier Ziv Mizrahi was murdered in a stabbing at the station, after which a security fence was built around the area.
As of last August Highway 443 had already become a terror hotspot, amid numerous rock attacks and a stabbing at the station during which Arab employees of the gas station watched and "chuckled." The victim was wounded but survived the attack.
Highway 443 was opened to Arab traffic by a Supreme Court order in 2010.
In the drill on Monday, the forces simulated a shooting attack conducted by two terrorists in which they lightly wound two IDF soldiers.
From the moment the report was received by the brigade in the simulation, the troops acted quickly, arriving at the scene of the shooting within minutes and pursuing the fleeing "terrorists." In parallel, additional forces took up the task of surveillance, and tracked the "terrorists" up until they were caught, after which the wounded soldiers were treated.
"The soldiers acted impressively and treated all stages of the drill seriously," said Brigade Commander Lt. Col. Yair Pinto. "In order to defend the routes and the towns in the area we must pay attention to the smallest details. Precision is critical in saving lives."
The Ram Brigade, which is part of the rescue battalion of the Homefront Commander, entered the region this week to replace the Kedem Brigade which left for a period of training.
For the next several months it will be tasked with arresting suspects in the central Arab towns, searching for illegal weapons, patrolling around the Jewish towns and more.
"We are entering a complex region, and the demands we will have to answer are very high," said Pinto. "The challenge standing before us is great, but I am certain that my combat soldiers will succeed in dealing with every mission they are called to, with the most important of them being the thwarting of terror and saving lives."