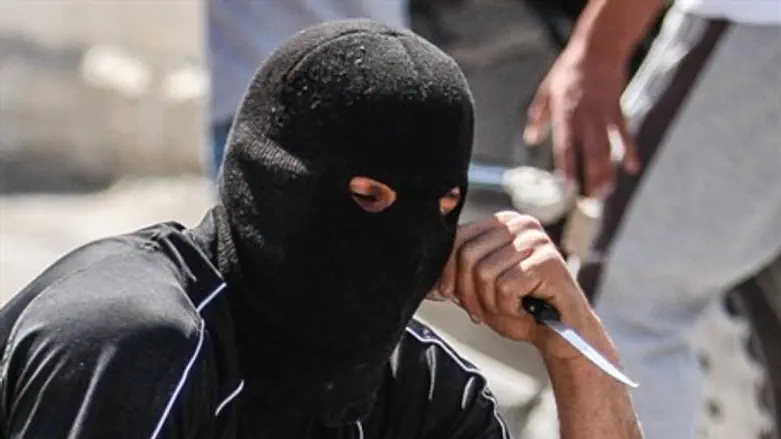 Arab with knife (illustration)
Flash 90
Tragedy was averted Wednesday in the town of Kedumim in western Samaria when an armed terrorist sneaked into the community looking for victims.
Brandishing a knife, the female terrorist made her way to the house of the Gavish family, who were in the middle of a Brit celebration at a relative's house.
The Gavish family already suffered the tragic loss of four members who were killed in a terrorist attack in their home 14 years ago in Elon Moreh.
When Diklah Gavish left the celebration, the terrorist followed her back to her home, but was caught at the last moment before she was able to reach her target. Diklah's husband, armed with a licensed pistol, and local security forces, captured the terrorist, who was then handed over for interrogation.
Kedumim's Mayor, Hananel Dorani, described the capture of the terrorist as miraculous, preventing a massacre just in time.
"Alertness on the part of our security forces stopped a terrible tragedy from happening," he told Arutz Sheva.
"The terrorist was stopped at the Gavish family's doorstep. And all this happened on the day the [whole family] was together celebrating the Brit."
Wednesday's averted terror attack is not the first time terrorists have targeted families in their homes. In 2011, for example, terrorists broke into the Fogel family's home in Itamar, slaughtering five, including a three-month-old baby.
More recently, earlier this month a father fought off two armed terrorists as they attempted to murder his wife and children in the Samaria town of Eli.