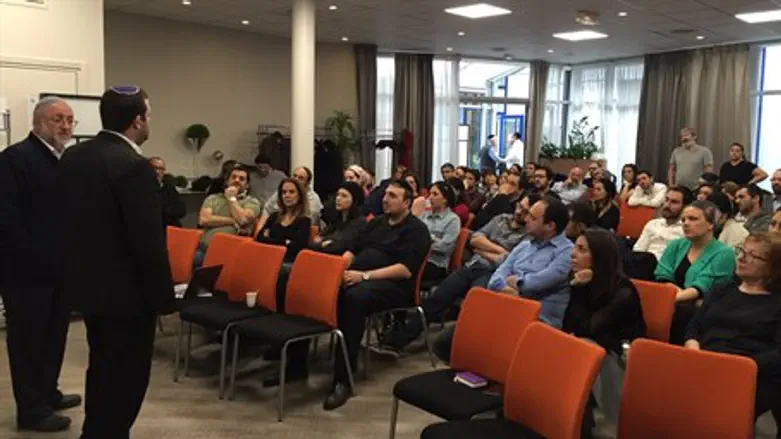 Yossi Dagan speaks to French families about Samaria
Courtesy Samaria Reional Council Spokesperson's office
Following the recent spate of anti-Semitic attacks in France, the head of the Samaria Regional Council, Yossi Dagan traveled to France to invite French Jews to move to Samaria.
While on the trip - a joint effort of the absorption NGOs run by Rabbi Joshua Zuckerman and Rabbi Shalom Vach - Dagan noted, "there is a sharp rise int he number of Jews that are interested in immigrating to Israel due to the tensions in France." 
Dagan met with families that are interested in immigrating to Israel, and told them about living opportunities that exist in Samaria, specifically the new town of Bruhin which will be able to absorb new immigrants this summer. 
Stefan Zephryn, one of the Jewish participants at the meeting told Dagan that "It is very uncomfortable for a Jew to live in France currently. Up until fifteen years ago we felt at home here, now everything is different. There was always some level of anti-Semitism but the situation has gotten much worse recently."
"We have decided that Israel is the best place for us, and Samaria is certainly an option. Samaria is a place where there is mutual involvement, something which is greatly lacking for us here in France right now." 
Zephryn addressed the kippah issue that has become a hot topic in France this past month. "There is a problem to wear a kippah in France, I personally think it is the responsible thing to do to instruct others to remove their kippah. People shouldn't take a chance." 
"We know that in Israel there are terror attacks and even rocket fire, but here as well people aren't secure," Zephryn continued. "The big difference is that in Israel you are at home. In Israel there is a feeling of belonging and of mutual responsibility for our future and well-being. We are making a statement, that if we are already going to take risks, it is best to take them in our own homeland. This is a feeling that many of the Jews here are feeling now-a-days."
Zephryn that the issue is not something which happened on the spur of the moment but has been building for some time. "Many people here have been considering immigrating for a while now. Due to all that has happened recently we are all feeling more sure than ever that it is the correct thing to do."
Dagan told the families that "we came here because we believe that it is our responsibility to take an active role in helping French Jews as well as settling every part of Israel."
"This is the third time I have traveled to France to encourage immigration to Israel," he added. "There certainly is more interest in among them to immigrate to Israel now than there was previously. I believe there is a direct correlation to the tension that Jews feel in France with all that is connected to the growing Islamification of Europe." 
It is the hope of the Samaria Regional Council that many of the French Jews will move to Bruhin which will be set up with a new community of temporary houses, and which will host an ulpan so that the new immigrants will be able to learn Hebrew and acclimatize quickly to the country.
"We certainly hope that after the positive experience which the families have here that many will choose to move to Samaria" Dagan said.