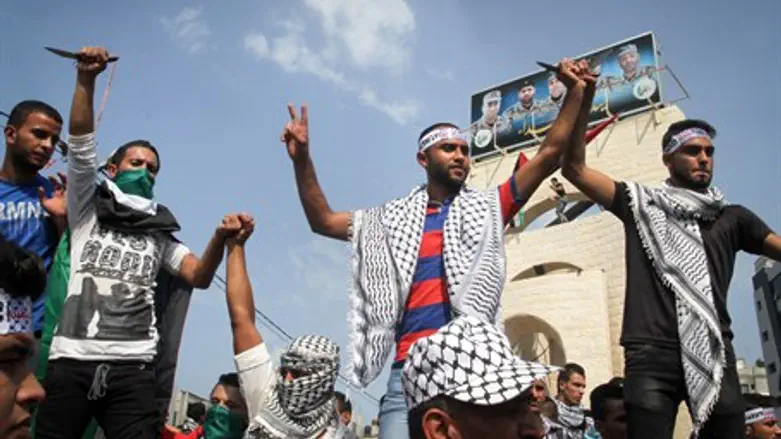 Arabs celebrate terror attacks (illustration)
Abed Rahim Khatib/Flash 90
A gruesome new detail has emerged in the case of the killing of 55-year-old Avraham Asher Hasno of Kiryat Arba in Judea, who died in an Arab rock ambush attack on Tuesday.
Arab terrorists threw rocks at several cars at Al Fawar junction, southwest of Hevron, prompting Hasno to get out of his car. At that point an Arab driver ran him over in a truck before fleeing the scene.
The paramedic who treated Hasno at the scene revealed shortly after returning from the incident that he had witnessed a blood-chilling sight while performing resuscitation attempts for the victim, which eventually failed as he died of his wounds.
Around the site where he was trying to save Hasno's life, the shocked paramedic said dozens of Arabs were standing around, and they clapped, celebrated and cheered as the victim lay critically wounded and dying on the pavement.
The Arabs celebrated with "cruelty that is hard to describe among human beings."
Hasno had gotten out of his car to confront the Arab terrorists according to Hevron activist Baruch Marzel, who revealed that the authorities refused Hasno's request to carry a gun.
The blood-curdling celebration at the sight of a dying man brings to mind the callous response Arab passersby and shopkeepers showed Adele Bennett, who earlier this month ran for help while seriously wounded from a stabbing attack in Jerusalem's Old City.
Bennett's husband Aharon as well as Rabbi Nehemia Lavi were murdered in the attack, and her two-year-old child was lightly wounded. And yet Arab residents laughed and cheered as she ran for help, mocking and hitting her. Prime Minister Binyamin Netanyahu has called to close the stores of the Arab shopkeepers who took part.
It is also being investigated whether Arab doctors working at an adjacent clinic refused to help the Jewish terror victims.