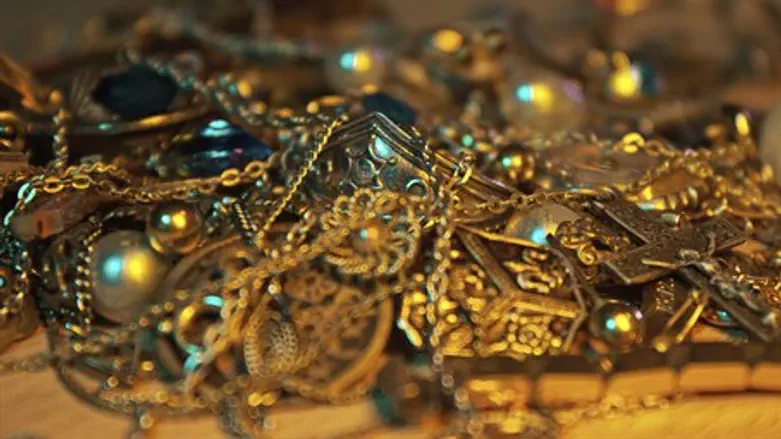 Gold treasure and relics
Thinkstock
Workers at volunteer organization Yad Sarah got a huge surprise when they received a donated hospital bed filled with a huge treasure of dollars, shekels, gold jewelry and watches. 
The family that donated the bed got just as big a surprise, when the organization returned the treasure to them.
The bed, according to its donors, the Markovich family of Tel Aviv, was used by Avi Markovich's father for years before he passed away. The bed had been unused for years, and friends suggested the family sell it, as it was likely worth a great deal of money.
Instead, Markovich said, the family decided to donate the bed, "because my father had led a life of giving, so it seemed appropriate. Yad Sarah had helped us out a great deal when we needed help, so it made sense to donate the bed to the organization."
As part of processing for the bed, which includes cleaning it and preparing it for use by other patients, Yad Sarah warehouse manager Yisrael Arend came across the treasure trove – and immediately tracked down the donors, returning all the items to the family.
Markovich said that besides the monetary value of the trove, there was a great deal of sentimental value involved.
"My father was a silversmith and he had made a bracelet for our daughter. It was too big, so we asked him to adjust it. He took it back but passed away a short while later, and then we looked for the bracelet but could not find it." 
"Now we have it back, and besides its monetary value, that bracelet and all the jewelry has sentimental value to us."
Uri Lupoliansky, former Jerusalem mayor and chairman of Yad Sarah, said that "this is the way Yad Sarah works. One good deed leads to another; the mitzva of donating the bed led us to perform the mitzva of returning the treasure. We all benefited."