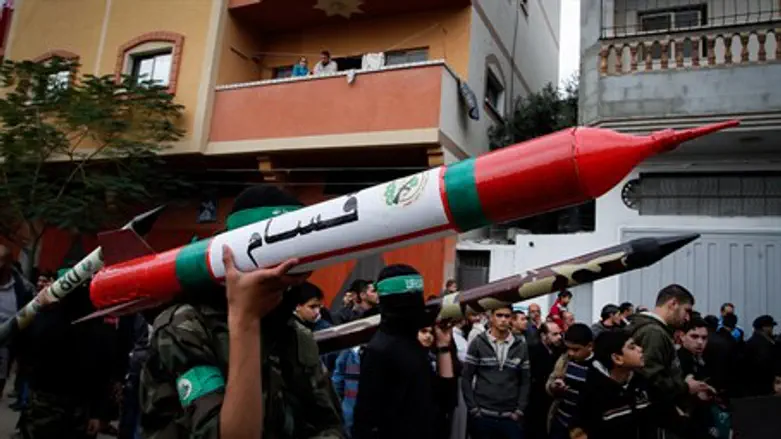 Hamas terrorists parade rockets in Gaza
Abed Rahim Khatib/Flash 90
This Thursday marked a full year since a ceasefire was sealed between Israel and the Hamas terrorist organization last August 27, bringing Operation Protective Edge to a close - but the ceasefire has been anything but quiet.
Gaza terrorists marked a year since the end of Hamas's third terror war seeking to destroy Israel by firing a rocket on Wednesday night, giving an ironic edge to the anniversary of the "ceasefire." The IDF responded by hitting a Hamas weapons manufacturing site.
But Wednesday's attack was far from the first Gazan breach of the ceasefire. 
A review of official IDF and Israel Security Agency (ISA) figures released by Channel 2 on Friday shows that no less than 12 rockets have been fired into Israeli sovereign territory from Gaza since the truce.
That figure doesn't include the many dozens of rockets fired at Israel that didn't make it over the security border, falling short within Gaza. Just earlier this month alone three such rockets fell in Gaza, landing short of their mark.
Twelve rockets since the ceasefire works out to an average of one rocket a month hitting Israel since the ceasefire. No more than three months went by without a Gazan rocket striking Israeli territory; fortunately, no one was wounded in any of the ongoing rocket fire.
A breakdown of the rocket strikes by month shows that last September, just a month after the ceasefire, Gaza terrorists fired mortar rounds at Israel. The rocket fire returned in October, and after a quiet November another rocket was intercepted last December.
The first three months of 2015 were surprisingly quiet, but in April another rocket breached the ceasefire, and in May more rocket fire was recorded. Three rockets entering Israeli territory were shot down in June, and two rockets apiece fell in July and August.
Still better deterrence than the past
As noted, those figures do not include the many more rockets fired unsuccessfully at Israel which never made it over the border.
In response to the numerous breaches, the IDF struck 14 terror sites in Gaza since the end of the war in airstrikes, most of them Hamas terror facilities as the IDF holds the terror group responsible for all rocket attacks emanating from the coastal enclave that is under its de facto control.
However, a comparison to the last two Hamas terror wars against Israel shows that despite the many breaches, the IDF achieved an even greater deterrent affect that in the past with its successful campaign to crush Hamas's rocket arsenals and its will to start another full-out war.
While 12 rockets have hit Israel since Operation Protective Edge, no less than 217 rockets hit Israel in the first year after 2008-2009 Operation Cast Lead, and a full 36 were fired after 2012 Operation Pillar of Defense.
Gadi Yarkoni, head of the Eshkol Regional Council, on Thursday responded to the rocket fire the night before and spoke about the ongoing detrimental affect the incessant rocket attacks are having on the local populace.
"This cannot go on. We cannot allow this rocket fire to turn into a regular event. The Defense Minister and the Prime Minister must decide how to respond in order to prevent escalation of the situation," said Yarkoni.
"Each time a rocket is fired it brings back bad memories. The government has to do something to prevent rocket fire, as well as put into place obstacles that will prevent Hamas from digging tunnels into Israel and attacking us from them."
While Hamas has had its rocket arsenals buoyed up by Iranian and other foreign technology, an Israeli crackdown on smuggled weaponry and weapon materials together with an Egyptian siege on the Sinai border has led Hamas to turn increasingly to its domestic rocket production industry to create new missiles.
That domestic rocket development has seen Hamas fire many dozens of rockets into the Mediterranean Sea over the course of the last year as part of its rocket testing program.