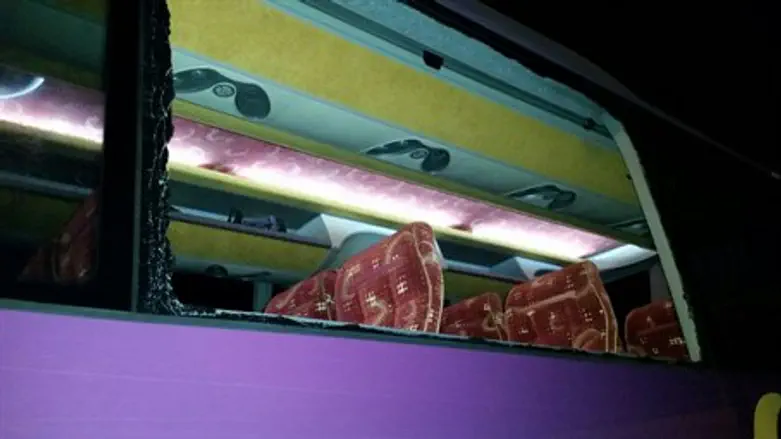 Rock attack on Israeli bus
Eliran Aharon
A bus carrying Jews on their way for a night of Torah study on the Mount of Olives in Jerusalem was pelted by rocks on Thursday night. No one was hurt.
The driver of the bus, which was full of passengers who were planning to take part in a Torah study in memory Rabbi Avraham Yitzhak Hacohen Kook on the 80th anniversary of his death, told Arutz Sheva, "We were hit by a rock right at the entrance [to the Mount of Olives]. I heard a loud boom at the side of the bus. The windshield completely shattered."
The driver said that some of the passengers suffered light scratches but, miraculously no one was seriously hurt. "I heard a loud boom and I kept going because you never know what could happen. The bus was full of people and I was really scared to stop, especially in those areas."
Arutz Sheva has frequently reported about rock attacks, which have become frequent occurrences in eastern Jerusalem, Judea and Samaria in recent years, but are ignored by most mainstream news outlets.
Such rock attacks can be lethal and are often carried out by terrorists with that intention.  Just this week, five people were lightly wounded after Arab terrorists hurled rocks at a bus and two cars in the same area of Jerusalem.
Israel has recently sought to implement stricter counter-measures to deter rock attacks which have proven tragically lethal, notably in the murder of the infant Adelle Biton, who died after a two-year struggle to recover from a rock attack that hit her directly in the head.
In this context, the Knesset last month approved a bill that toughens the punishment handed out to rock throwers.