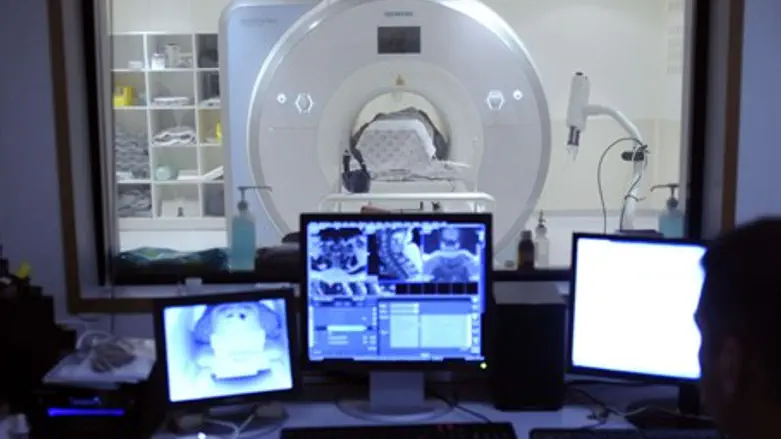 MRI scan (illustration)
Flash 90
Jailed Islamic Jihad terrorist Mohammed Allan, who has been hunger striking for over 60 days, has suffered brain damage according to doctors on Wednesday - in a finding that comes hours after the state agreed to release him immediately in the case of irreversible brain damage.
The Barzilai Hospital in Ashkelon announced on Wednesday afternoon that an MRI test found that Allan has inflicted brain damage to himself through the hunger strike. It remains unclear whether the damage is reversible or not.
Dr. Hazi Levy, director of the hospital, said, "I don't know if the damage is completely reversible, how much so and when. I presume it will take time for the recovery of these cells in the brain."
Earlier on Wednesday the state announced in a Supreme Court hearing that if the terrorist was found to be suffering from irreversible brain damage he would be immediately released.
The state likewise agreed on Wednesday morning to release Allan in November if he agrees to end his hunger strike.
Internal Security Minister Gilad Erdan (Likud) stated soon after the news surfaced that he was vehemently opposed to such a deal. 
"His release will be a prize for the hunger strike he initiated and could cause a wave of mass hunger strikes among security prisoners, after they discover a new tool by means of which they can blackmail the state of Israel," Erdan said.
"One fights terrorism with determination and one does not seek compromises," he added.