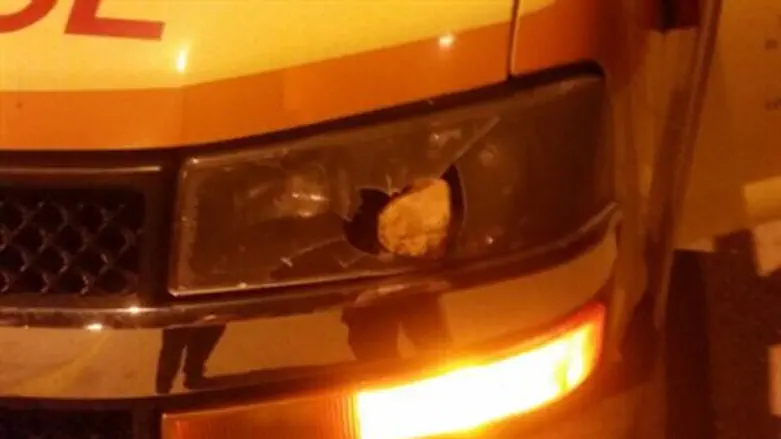 The ambulance that was attacked
Magen David Adom
Terrorists threw rocks on Thursday night at a Magen David Adom ambulance that was making its way to an ambulance station in the Jordan Valley.
None of the paramedics aboard the ambulance were hurt, but the vehicle itself sustained damage.
Magen David Adom spokesman Zaki Heller condemned the attack, saying, "We view seriously the deliberate attempt to damage a vehicle meant to treat and evacuate the wounded and the sick."
"We are confident that the security forces will do justice with the perpetrators and hope that the other side will act decisively and firmly to prevent similar incidents in the future," added Heller.
Arutz Sheva has frequently reported about rock attacks, which have become frequent occurrences in eastern Jerusalem, Judea and Samaria in recent years, but are ignored by most mainstream news outlets.
Such rock attacks can be lethal and are often carried out by terrorists with that intention. An example of this occurred recently when a Jewish couple narrowly averted death when terrorists threw rocks at their car as it was travelling in central Israel, on Highway 6 that crosses Israel from north to south.
This is not the first time that an ambulance has been attacked by terrorists. In June, Arab terrorists opened fire on a civilian ambulance as it was driving along a road adjacent to Beit El in the Binyamin region of Samaria.
At least three direct hits from the bullets were located on the ambulance, but fortunately no one was wounded in the incident.
Thursday night's rock attack came hours after three soldiers were injured in a vehicular terror attack Thursday afternoon at Sinjil junction, near Shiloh in Samaria, several kilometers north of Jerusalem.
Two of the injured soldiers were listed in serious condition, and the third victim was lightly hurt. He was released late Thursday from the Beilinson Hospital in Petah Tikva.