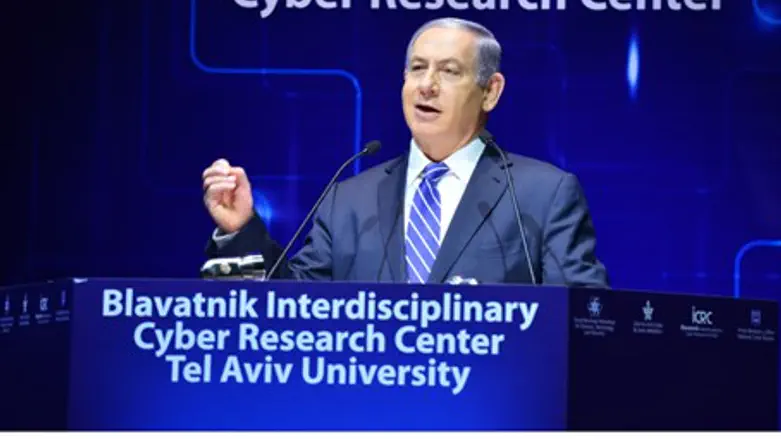 Netanyahu speaks at Cybersecurity Conference
Kobi Gidon/GPO/Flash90
Cybersecurity has become one of Israel's top priorities, Prime Minister Binyamin Netanyahu stated Tuesday, at the 5th Annual International Cybersecurity Conference at Tel Aviv University (TAU). 
"We have established two government resolutions: One is to create the national cyber security authority, and the second is the decision to create the IDF cyber forces," he said. "The greatest threat comes from governments, specifically Iran. We are determined to protect ourselves by using a combination of government, military, academia and business. We are moving ahead and committed to stay ahead."
Netanyahu also reflected on why Israel has, specifically, pledged to transform the field of cyber-defense. 
"Israel is in a unique place, we have a large number of talented people in this field, but it's not only numbers," he said. "It is a unique place because of our culture, challenging assumptions is deeply embedded in our culture."
"Another advantage we have is perpetual investment," he added. "We need to make the cyber culture not only a vehicle for national defense, but also for business."
Netanyahu elaborated on the efforts to cultivate a professional cyber-community in Israel's south, saying that "In Be'er Sheva, we decided to place our own NSA … right next to the University to have there our national cyber headquarters and a new cyber park, which is expanding with many firms joining it. In a small place the culture can grow and thrive."
The government has stepped up its cybersecurity programs significantly over the past two years, and Netanyahu's remarks surface 10 days after Israeli cybersecurity company ClearSky said it had uncovered a massive Iranian cyber attack against Israel.
Attacks were launched against 40 Israeli targets and 500 other targets worldwide, including against reserve generals in the IDF, a security consulting company, and researchers, the firm told Army Radio.
In April, security researchers claimed that hackers had managed to penetrate computer networks associated with the IDF.
The Israel Security Agency (Shin Bet) revealed last year it had set up an elite cyber-defense unit to defend against an organized attack on Israeli cyberspace as well, and in September, the Israeli government set up its own National Cyber Defense unit.