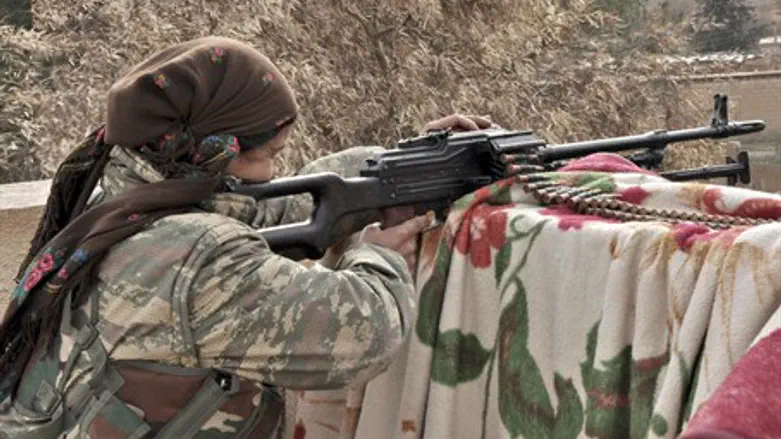 A female Kurdish YPG fighter (file)
Reuters
Kurdish forces advanced Sunday to the gates of a Syrian town and clashed with Islamic State jihadists, an upsurge in violence that saw Turkey open its border to fleeing civilians.  
Backed by Syrian rebel fighters and US-led air strikes, the Kurdish militia pressed their offensive on the northern town of Tal Abyad, a strategic supply route from Turkey to ISIS's self-proclaimed capital of Raqqa.
Hussein Khojer, a commander with the Kurdish People's Protection Units (YPG), said fighting raged on the eastern edges of Tal Abyad, just 50 meters from the town itself.
"We are fighting for control of the first checkpoint," Khojer told AFP in Beirut, adding that the advance came after three days' of heavy clashes.
He said ISIS had tried to block the advance by blowing up two bridges.
The Syrian Observatory for Human Rights said Kurdish fighters "just waded across" and had reached the town's southeastern outskirts but had yet to enter.
Kurdish sources say the goal is to cut off a crucial supply line for the jihadists, who have been accused of bringing in foreign fighters and supplies across the Turkish border.
Fearing a major battle, Arab and Kurdish civilians fled their homes and headed for the border fence with Turkey, where thousands had been clustered behind barbed wire at the Akcakale crossing.
Turkey later began accepting onto its territory refugees, an AFP photographer said.
Dozens of them, many carrying sacks of possessions, started passing through the Akcakale border gate onto Turkish territory as thousands more awaited their turn to cross on other side.
It came after two days of them being trapped between the ISIS jihadists on the Syrian side of the border and Turkish troops on the other who fired water cannon and even pepper spray to keep them at bay.
'Almost completely surrounded'
Fears have been building in the area for days, as the Kurdish YPG militia and its allies advanced from east and west on the town of about 15,000.
By Saturday the YPG had seized at least 20 villages southwest of Tal Abyad, according to the Britain-based Observatory which relies on a wide network of sources across Syria.
The advance sparked fear among civilians who fled in droves and slept the night at the fence in the open.
Many could be heard asking in Arabic for help, and holding up empty bottles, pleading for water in scorching early summer temperatures.
A Kurdish activist who visits the front line daily said residents were seeking refuge wherever they could.
"Tal Abyad is almost completely surrounded," Arin Shekhmos said.
The town lies on a mostly Sunni Arab part of the border between the mainly Kurdish town Kobane and Syria's most populous ethnic Kurdish region - Hasakeh province - in the northeast.
Backed by US-led air raids, YPG units scored a landmark victory against ISIS in January in Kobane.
Since then, Kurdish forces have been chipping away at jihadist territory on either side of Raqqa - from Hasakeh province to the east and Aleppo to the west.
"We are waiting for the whole border area to be liberated -- from northeastern Syria all the way to Kobane," said Mustafa Ebdi, a Kurdish activist in Kobane.  
Erdogan troubled
Observatory director Rami Abdel Rahman said US-led air strikes had been key in forcing the jihadists to withdraw.
On Saturday, the coalition said it had struck three ISIS "tactical units" near Kobane and had destroyed one of the group's fighting positions.
To the west in Aleppo province, coalition raids killed at least 12 ISIS fighters as they fought a rebel alliance for control of another supply route from Turkey, said Abdel Rahman.  
Turkish President Recep Tayyip Erdogan said he was troubled by the Kurdish advance in northern Syria as it could pose a future threat to his country.
Erdogan also claimed that ethnic Arabs and Syrian Turkmen were being targeted in the advance.
He said the places they had vacated were being occupied by the Syrian Kurdish group the Democratic Union Party, and the outlawed Kurdistan Workers Party (PKK) which fought a deadly decades-long insurgency for Kurdish self-rule in Turkey's southeast.
"This could lead to the creation of a structure that threatens our borders," Erdogan said. "Everyone needs to take into account our sensitivities on this issue."
The Kurds rejected the accusations while the Observatory reported only "isolated cases during which some Arab homes were torched."