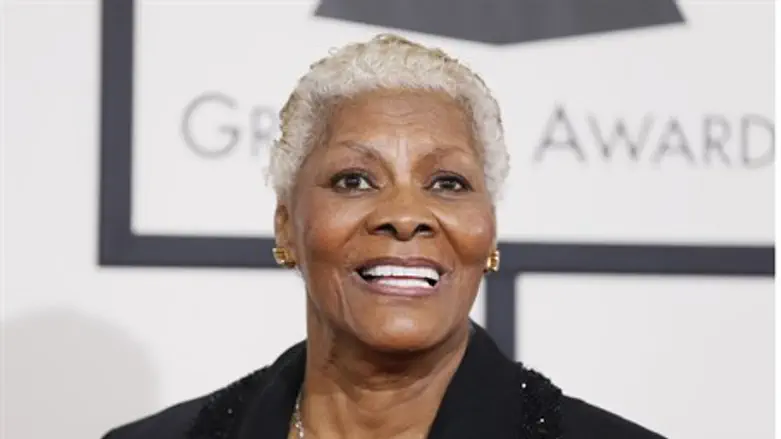 Dionne Warwick
Reuters
American singer Dionne Warwick will not be following in the footsteps of her entertainment industry colleague Lauryn Hill, her "people" said Wednesday. In an e-mail, the entertainer's production company said that Warwick "will never surrender to political pressure.
"She will not cancel appearances because of heavy pressure put upon her by some, such as former Pink Floyd lead singer Roger Waters," the message said. "Waters' political opinions are of no interest to Ms. Warwick."
Earlier this week, R&B, soul and hip hop singer-songwriter Lauryn Hill announced she was canceling her planned show in Israel, scheduled for May 7. The problem, she said, was due to her finding it difficult to set up a show in the Palestinian Authority, which she felt was necessary in order to show she wasn't "playing favorites." In a statement on her website, Hill wrote, "When deciding to play the region, my intention was to perform in both Tel Aviv and Ramallah. Setting up a performance in the Palestinian Territory, at the same time as our show in Israel, proved to be a challenge.
"It is very important to me that my presence or message not be misconstrued, or a source of alienation to either my Israeli or my Palestinian fans," Hill added.
Warwick, who is not scheduled to play Ramallah, is steering clear of politics, her production company said. "Art has no borders," the company said. "Ms. Warwick has always respected her commitments and agreements. If she had had any principled objection to appearing in Israel, no amount of money could have convinced her to appear."
Warwick, who will appear May 19 at the Menorah Mivtachim Arena (formerly the Nokia Arena) in Tel Aviv, is one of the most accomplished American singers and entertainers in any genre. She is one of the top 40 hitmakers of the modern era, and has had 69 singles in the Billboard Hot 100 during the span of her career, second only to Aretha Franklin as the most-charted female singer of all time. Many of her songs were written – many specifically for her – by the songwriting team of Burt Bacharach and Hal David, considered two of the most important songwriters in American history. "Dionne Warwick is a class act, in all meanings of the term," said one music industry observer in Israel. "Lauryn Hill couldn't shine her shoes."