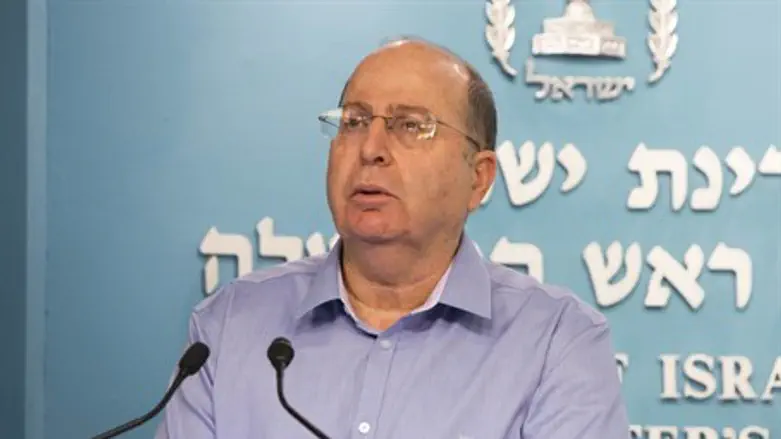 Moshe Ya'alon
Yonatan Sindel/Flash 90
Moscow lifting a ban on selling Iran S-300 missiles will directly contribute to terror in the Middle East, Defense Minister Moshe Ya'alon stated Tuesday - as Iran passes on the weapons to its agents in Syria, Yemen and elsewhere. 
"Iran continues to provide more and more arms," Ya'alon stated. "The S-300 deal we're hearing now - which is in fact Russian approval to resume transactions they suspended in recent years - is a direct result of the framework agreement reached in Lausanne." 
"This is something we warned about before any agreements were made," he added. 
"The Iranians continue to arm the terror groups around us," he continued. "They arm Hezbollah in the north, support the fighting in Syria, and are of course involved in Yemen." 
"This issue was not discussed at all, and this is one of the biggest holes in the agreement, in fact outside of the agreement, which is certainly very disturbing and I hope that the coming months will include time to fix it." 
"Iran has continued to use terrorism in the region against pro-Western regimes such as Yemen, with the overthrow of the pro-American regime by supporting the strings; with support for various authorities in Iraq [...] they continue arming Hezbollah in the north, through continual arms transfers through Syria from Iran." 
"The same attempt in January to begin a war in the Golan Heights, which was thwarted in its tracks, reflects the Iranian intentions," he continued. "And of course, tens of millions of dollars have been transferred to the Gaza Strip, Hamas and Islamic Jihad after Operation Protective Edge, to help them to arm themselves in light of their inability to move rockets and other weapons. "
"We continue to warn not to form this bad agreement with Iran - which does not include terrorism, does not include the missile components, does not include the elements of the military part of the Iranian nuclear program and therefore we oppose this bad agreement," concluded Ya'alon.