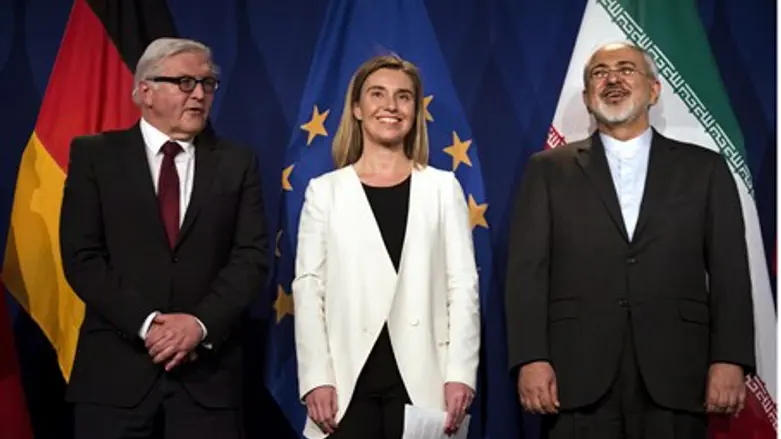 Iranian FM Javad Zarif (R) at press conference announcing nuclear deal
Reuters
Israel should "seriously consider" a military strike on Iran's nuclear facilities in the aftermath of the "framework deal" announced between Tehran and western powers Thursday, a leader defense and security expert said.
Speaking to Arutz Sheva Friday, Professor Efraim Inbar, who heads the Begin-Sadat Center for Strategic Studies, said the deal had realized Israel's worst fears by leaving Iran's nuclear program essentially intact.
The Islamic Republic's nuclear program has been granted "legitimacy" by the agreement, which still allowed it to continue enriching uranium and to maintain a reactor capable of producing enriched plutonium, he said. "And that's what worries Israel, that they (Iran) will be able within a short time frame to reach a nuclear bomb."
"I hold the view that the only way to stop Iran in its journey to a nuclear bomb is through military means," Inbar maintained, suggesting that "Israel needs to seriously consider striking a number of important nuclear facilities" to head off the threat.
Inbar went further, stating that Israel had made a serious mistake in not taking out Iran's nuclear facilities until now. Now that the deal - however bad - was struck, a military strike would be far more difficult, he posited.
Nevertheless, practically-speaking Israel was left with little choice short of accepting a nuclear-armed Iran.
"As long as there was no deal it was easier for Israel to strike. They should have carried out a strike two years ago," he said. "This is not an easy decision but it's what needed to be done."
Despite that fact, many countries - most notably Israel's immediate neighbors - would be supportive of such a strike, and were waiting for Israel to neutralize the threat posed to them by a nuclear-capable Iranian regime. 
"In practice no one wants to see a nuclear Iran; all of them are playing the game so that Israel can pulls the chestnuts out of the fire.
The deal, announced yesterday at a joint conference in Switzerland and widely celebrated as a "victory" in Iran, was quickly lauded by US President Barack Obama as an "historic" agreement.
"I am convinced that if this framework leads to a final comprehensive deal it will make our country, our allies and our world safer," Obama asserted, insisting that despite criticisms the agreement would effectively cut off any options for Iran to build a nuclear bomb.
But despite Obama's claim that there was "no daylight" between the US's commitment to Israel's security and the framework deal, Israeli officials heavily criticized it as an "historic mistake".
"If an agreement is reached on the basis of this framework, it is an historic mistake which will make the world far more dangerous," said the officials, briefing journalists on condition of anonymity.
"It is a bad framework which will lead to a bad and dangerous agreement. The framework gives international legitimacy to Iran's nuclear program, the only aim of which is to produce a nuclear bomb," they added.
In Congress as well - where legislators on both sides of the aisle have expressed serious concerns over the pending deal - House Speaker John Boehner branded the agreement "an alarming departure" from the president's own declared goals. Nevertheless, legislators have given the White House a three-month reprieve on a bill to level harsher sanctions against Iran.
Israeli Prime Minister Binyamin Netanyahu is due to address the deal directly at a press conference Friday, after holding top-level talks with security officials.