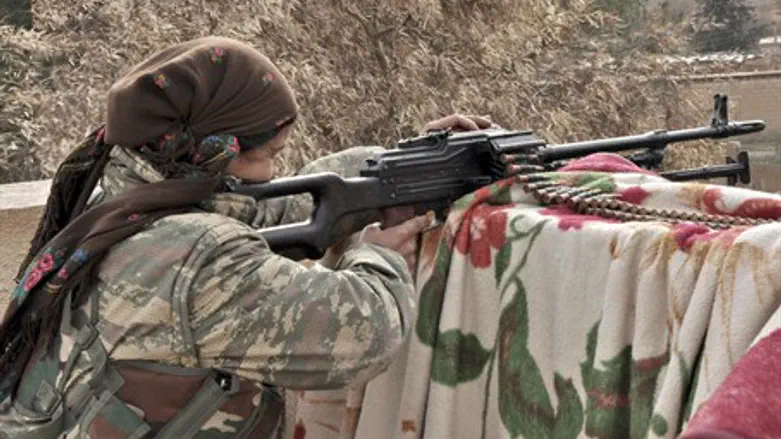 A female Kurdish YPG fighter (file)
Reuters
The body of a young German woman killed in Syria fighting with  Kurdish forces against the Islamic State (ISIS) group was on Thursday transferred to the Turkish side of the border ahead of burial in Germany, reports said.
Ivana Hoffmann is believed to be the first female national of a Western state to have been killed fighting for the Kurds against the Islamist
terrorists, reports AFP.
The radical Turkish-Kurdish Marxist Leninist Communist Party (MLKP) confirmed her death in a statement, saying Hoffmann was 19 and had fought as one of its members under the nom-de-guerre of Avasin Tekosin Gunes.
Her coffin was accorded a farewell ceremony in the Kurdish-controlled town of Qamishli on the Syrian side of the border before being transferred to Turkey, an AFP photographer reported.
The coffin was then handed over to her family in the town of Nusaybin in Mardin province on the Turkish side of the border, the pro-Kurdish Firat news agency reported.
It said another ceremony was held for her in Nusaybin before the body was moved to the mainly Kurdish Turkish city of Diyarbakir for an autopsy and then repatriation to Germany where she will be buried.
Firat said Hoffmann was killed in an attack by ISIS jihadists on joint positions of MLKP and a women's force of the Kurdish People's Protection Units (YPG) in the early hours of March 7 during a battle for for the Kurdish-held town of Tal Tamr in Hasakeh province.
Hoffmann, whose death was first reported Sunday by the Britain-based Syrian Observatory for Human Rights, is the third Westerner killed among Kurdish ranks in Syria.
Briton Konstandinos Erik Scurfield and Australian Ashley Johnston both died in clashes elsewhere in Hasakeh.
Women account for around 35% of the fighting force of the YPG, numbering around 7,000, and they receive the same training as their male comrades.
There is a special force for women, the Women's Protection Units (YPJ).
Following the death of Hoffmann, who is believed to have African origins, pro-Kurdish media published a video on YouTube of a woman said to be her in battle fatigues against the backdrop of an MLKP flag.
"I came for freedom. I came to fulfil the mission of the party and to raise its flag," she said in the video, speaking in German.
The MLKP said Hoffmann had fought to the "last bullet" and had already been in northern Syria for half a year.
The video can be seen here: