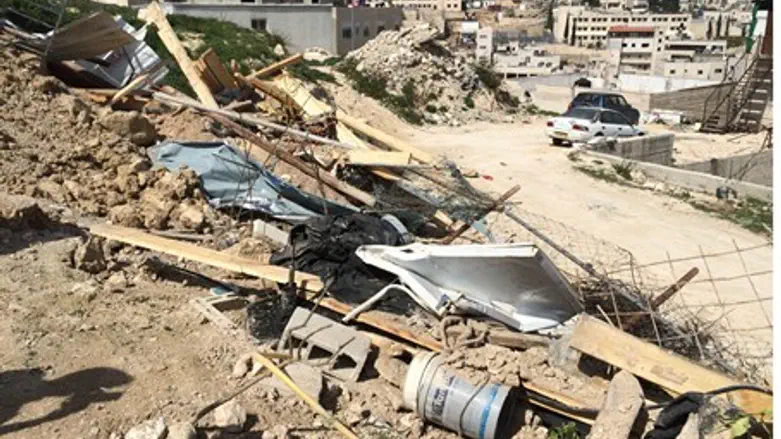 Demolition in Jerusalem
Regavim
Early Tuesday morning, Israeli police demolished an illegally built structure a few hundred meters away from the Hebrew University campus on Mount Scopus which bore a European Union (EU) flag, according to rights group Regavim.
The structure was situated on state land which is zoned as a national park, it is one of five hundred built by the European Union on state land in and around Jerusalem,without any coordination with the Israeli authorities. 
A recent report by Regavim highlighted this new EU policy of unilaterally building on behalf of the Palestinians in Jerusalem and Area C of Judea and Samaria (Shomron) to  the detriment of Israel.
The Regavim report has subsequently been presented to the European Parliament by a number of concerned MEPs and awaits a hearing in the Foreign Policy Committee.  
"After years of researching this new phenomena of illegal European settlements in and around Jerusalem, we praise the Jerusalem municipality for beginning to enforce the rule of law," Ari Briggs, international director of Regavim and one of the authors of the report, stated Tuesday. "We see this action as a direct consequence of the recent Regavim exposé on the subject and call on the government of Israel to find an immediate solution for the other 499 structures that we have identified as illegal EU settlements."
An expose by the Regavim NGO - first published last year by Arutz Sheva but later picked up by major UK outlet the Daily Mail in February of this year - revealed how EU funds have helped to pay for some 200 illegal buildings for Bedouin settlers in Judea and Samaria, just outside Jerusalem.
The EU funding, aimed at creating "facts on the ground", was denounced by an Israeli group as "European colonialism."
Regavim repeatedly lobbied the Israeli government to demolish the thousands of illegal Arab buildings scattered throughout Judea and Samaria.
The NGO monitors illegal Arab settlements throughout Israel. One of the group's research drones was nearly downed in the same area on Monday by rock-throwing Arab settlers.
credit: Regavim
credit: Regavim
credit: Regavim
credit: Regavim
credit: Regavim
credit: Regavim