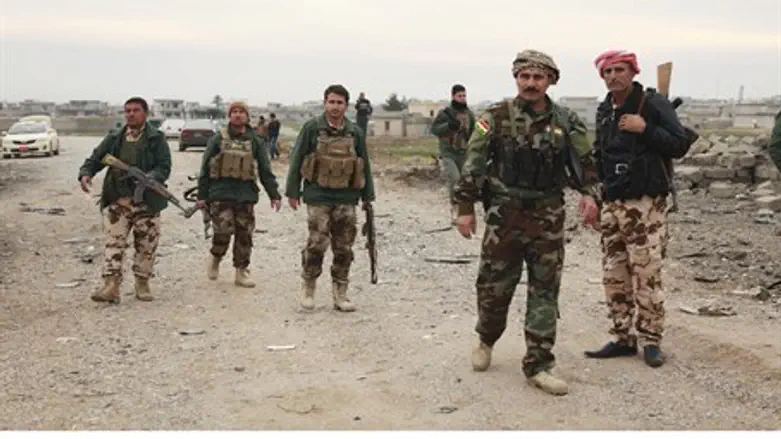 Kurdish Peshmerga fighters in northern Iraq
Reuters
The United States Central Command confirmed on Monday night that Kurdish forces have pushed back the Islamic State (ISIS) group and now control 90 percent of the key Syrian town of Kobane.
ISIS, which has overrun large areas of Syria and Iraq, had poured men and weapons into an offensive to secure Kobane, which is near the Turkish border.
A statement from Central Command quoted by AFP confirmed that "anti-[ISIS] forces now control approximately 90 percent" of Kobane.
The American military, which has backed up the Kurds with a steady stream of air strikes, had been cautious in its earlier assessments, even after Kurdish militia claimed victory in the months-long battle.
But Central Command, which oversees American forces in the Middle East and the air war against ISIS, said it "congratulates" the Kurdish fighters who "have fought aggressively with resilience and fortitude."
"While the fight against [ISIS] is far from over, [ISIS's] failure in Kobane has denied them one of their strategic objectives," it said, according to AFP.
The statement thus confirmed earlier  claims by Kurdish leaders that their forces had recaptured Kobane from ISIS jihadists.
Before Central Command's statement was made public, both the State Department and the Pentagon played down the Kurds' declarations.
Kurdish forces, backed up by coalition air strikes, had made progress in recent fighting but "Kobane remains contested," State Department spokeswoman Jen Psaki said.
The Pentagon also said it could not confirm accounts from Kurdish militia and the Syrian Observatory for Human Rights that Kurdish fighters had full control of the town near the Turkish border.
"I'm not prepared to say the battle is won. The battle continues, but friendly forces have the momentum," spokesman Colonel Steve Warren told reporters.
The fight for Kobane, which has lasted more than four months and left nearly 1,800 dead, has taken on symbolic importance.
ISIS has poured in fighters and weapons and filmed its own propaganda videos there, even as international media across the border in Turkey captured imagery of bombing raids.
American and coalition aircraft have carried out 705 bombing raids around Kobane since September 23, defense officials told AFP.