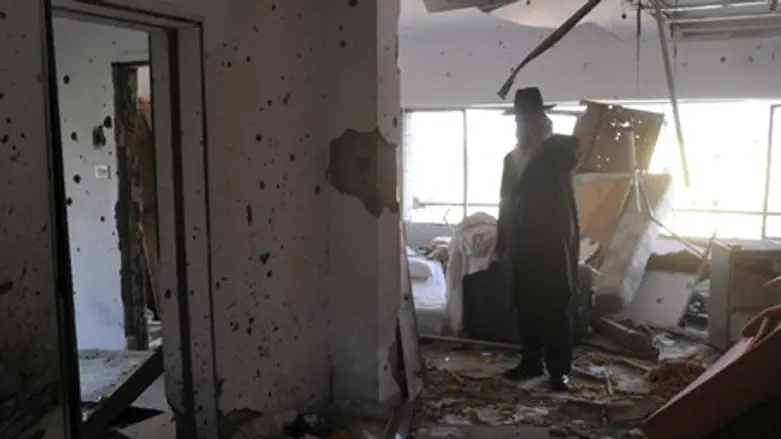 A Jewish man surveys the scene at Mumbai's Chabad house, after 2008 attack
Flash 90
A court in Pakistan on Thursday granted bail to Zaki-ur-Rehman Lakhvi, the man accused of masterminding the 2008 terror attacks in Mumbai, lawyers told AFP.
The 60-hour siege on India's economic capital left 166 people dead and was blamed on the banned Pakistani militant group Lashkar-e-Taiba (LeT).
Relations between the two nuclear-armed rivals worsened dramatically after the carnage in Mumbai, in which 10 gunmen and bombers attacked luxury hotels, a popular cafe, a train station and a Jewish Chabad house. 
The horror of the Mumbai carnage played out on live television around the world, as commandos battled the heavily-armed gunmen, who arrived by sea on the evening of November 26.
It took the authorities three days to regain full control of the city and New Delhi has long said there is evidence that "official agencies" in Pakistan were involved in plotting the attack.
Islamabad denies the charge but LeT's charitable arm Jamaat-ud-Dawa (JuD), seen as a front for the militant group, operates openly in the country.
Pakistan has had five Mumbai suspects in custody for more than five years and the failure to advance their trials has been a particular source of irritation in perennially-frosty ties with India.
"We had moved a bail application with the Islamabad anti-terror court on December 10, today the judge granted bail to my client after hearing arguments from both sides," Lakhvi's lawyer Rizwan Abbasi told AFP.
Prosecutor Mohammad Chaudhry Azhar confirmed the court had granted bail.
The court's decision comes a day after Pakistani Prime Minister Nawaz Sharif vowed to crack down on terror groups in Pakistan, after Taliban gunmen massacred 148 people at a school.
Sharif also announced Wednesday that a six-year moratorium on the death penalty would be lifted for those convicted of terror offenses.
Traumatic attacks
As well as Mumbai, LeT is also accused of involvement in militancy in Kashmir, the disputed Himalayan region that is the source of much of Pakistan and India's friction.
Seven Pakistani suspects have been charged with planning and financing the attacks but the failure to advance their trials has been a major obstacle to normalizing ties with India.
Delhi has accused Islamabad of prevaricating over the trials, while Pakistan has claimed India failed to hand over crucial evidence.
The sole surviving gunman from Mumbai, Pakistani-born Mohammed Ajmal Kasab, was hanged in India in 2012.
The attacks traumatized India, exposing the antiquated weapons and methods of the local police force and revealing crucial gaps in the country's defenses.
They also derailed a nascent peace process between nuclear-armed India and Pakistan.
In the wake of the Peshawar massacre on Tuesday, Sharif said Pakistan would not distinguish between "good Taliban and bad Taliban" as it seeks to crush the scourge of homegrown Islamist militancy.
But skepticism will remain, particularly in India.
Analyst Pervez Hoodbhoy said Thursday's development would hurt ties with India.
"After the Peshawar massacre there was an outpouring of sympathy for Pakistan from many countries, including India. But this will pass soon," he told AFP.
"By selectively attacking the 'bad' terrorists in Waziristan, while protecting those who have committed atrocities in other countries, Pakistan is on a weak wicket."
Pakistan has long been accused of playing a "double game" with terrorists, supporting groups it thinks it can use for its own strategic ends.
Many Pakistanis regard the struggle against what they see as India's "occupation" of Kashmir as a just fight, and are prepared to tolerate groups engaged in it.
Pakistan and India both control part of Kashmir but claim the whole of the territory and have fought two of their three wars over it since independence from Britain in 1947.