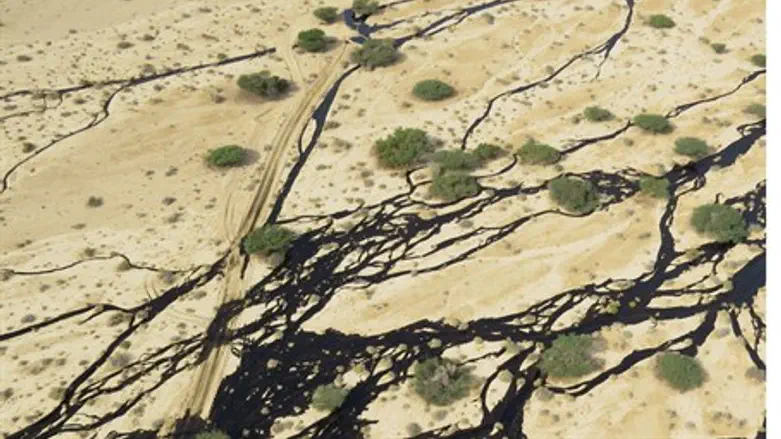 Arava oil spill
Israeli Environmental Protection Ministry/Flash 90
A study conducted by Environment Ministry scientists Monday shows that there is a high level of cancer-causing elements in the area of the Arava oil spill. While the air was considered fit for breathing – a decision that will allow environmental workers to continue cleanup operations in the area – it was recommended that the general public, and especially the elderly, women, and children stay away from the affected areas.
As part of the cleanup efforts, officials have tapped academics and scientists for advice on how to proceed. Officials called on members of the scientific community in Israel to study the incident and learn better ways of dealing with oil spills.
Crews have been working around the clock since last Wednesday to remove the oil, which has threatened to badly damage nearby nature reserves. Officials expressed grave concern that Tuesday's rainy weather would speed up the flow of the oil towards the Gulf of Eilat, where fragile coral reefs would be badly damaged. However, officials said that they had been able to clean up much of the oil and were able to prevent it from flowing towards Eilat or nature reserves in the region.
Earlier Tuesday, Prime Minister Binyamin Netanyahu visited the site. Speaking at the site, Netanyahu said that "Our mission is to protect the health of the public, work to reduce the risk that the contamination will reach Eilat, and rehabilitate the nature reserve. In recent days we have been dealing with various matters but as soon as we knew about the oil leak, I have been monitoring events. I appointed Prime Minister's Office Director General Harel Locker to coordinate all action on the issue, along with the relevant agencies, and I came here at the first opportunity. I appointed Deputy Minister Ofir Akunis to be responsible for the Environmental Protection Ministry. We just had a focused briefing on the actions being taken first of all to reassure the public and protect public health and, of course, protect the environment. A series of actions are being taken here and will apparently continue for some time. We will allocate the necessary resources to protect the environment, this precious jewel in our country."