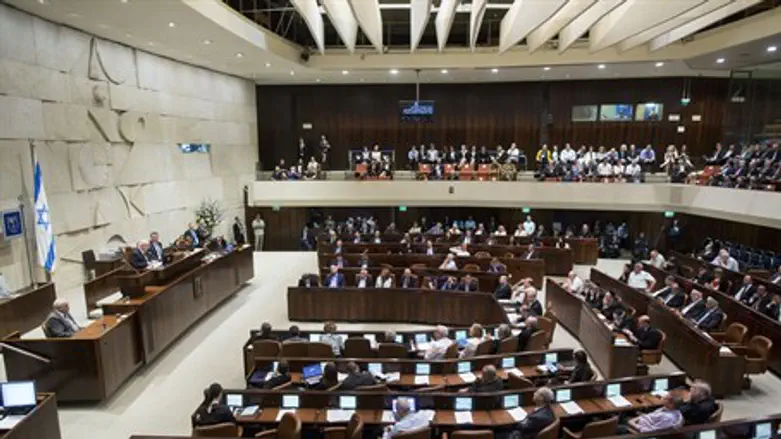 Knesset in session
Yonatan Sindel/Flash 90
Barring any last minute political deals, the 19th Knesset is expected to officially come to an end on Monday.
The Knesset plenum is expected to vote sometime on Monday on the second and third readings of the bill to dissolve the Knesset, which was approved in a preliminary vote last week. Once the bill passes, the Knesset will be dissolved and the election campaign will be underway.
Most analysts expect the bill to pass and for elections to be held on March 17, though some reminded of a similar situation in 2012, when Prime Minister Binyamin Netanyahu and then opposition leader MK Shaul Mofaz surprised everyone by announcing an agreement on a unity government in the middle of the night, after the Knesset had already approved the first reading of a bill to dissolve itself.
This time, however, a similar move is not expected to occur, as the Yisrael Beytenu party has already rejected the formation of an alternate coalition with the hareidim.
Foreign Minister Avigdor Liberman's party explained on Sunday that it rejected the idea of an alternate coalition because "it is simply postponing the collapse of the government - not more than that."
"The establishment of an alternative government, [which would] now have 61 government members where every single member of the Knesset can threaten and blackmail, would cause one more year of political instability - and then we'll go to elections after wasting billions more to maintain a shaky coalition," the party said.
Meanwhile, talks on a joint list between Labor leader Yitzhak Herzog and Hatnua chairwoman Tzipi Livni are continuing. Under the agreement, three spots on Labor's list would be reserved for Livni and two members of her party, likely Amir Peretz and Amram Mitzna, who both served as Labor party leaders in the past.
Yesh Atid chairman Yair Lapid is also not ruling out cooperation with Livni. Kol Yisrael radio reported on Sunday night that Lapid and Livni are scheduled to meet Monday and examine the possibility of running together, despite reports that Livni is close to an agreement with Herzog.
Political sources close to Yesh Atid said, according to the report, that they are also not ruling out the possibility of running with the new party of former minister Moshe Kahlon.