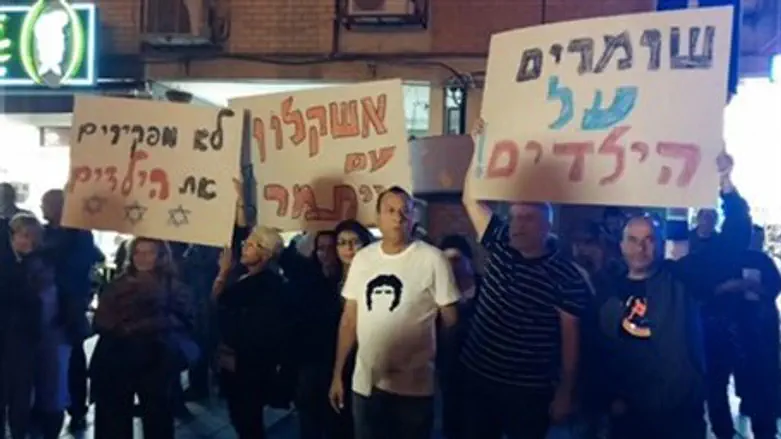 Shimoni Supporters
Ashdodnet
Despite sharp criticism from several Knesset members and the Prime Minister himself, residents of Ashkelon are defending Mayor Itamar Shimoni's decision to temporarily remove Arab constructions workers from building in kindergartens. 
Shai Rubin, a public activist and a father to children attending the kindergartens in questions, told Arutz Sheva, that parents' demand from the mayor was unequivocal. 
"We told him that if Arab workers do not vacate the kindergartens, we will not send our children to them. The mayor understood our distress and I think all the ministers who criticized him are populists." 
"I ask Gilad Erdan, a former Ashkelon resident, Tzipi Livni, Yair Lapid and Naftali Bennett: Would you send your children to a kindergarten with only two teachers and dozens of Arab workers around?" 
Rubin added that the mayor's words were distorted by the media frenzy that followed. "The mayor proposed allowing the Arab workers to build the bomb shelters in the afternoon, after the kindergarten's day had ended. Is there a more legitimate demand? We want to work in peace and know that our children are safe." 
Rubin also said there is no doubt that among the Israeli Arab workers are non-residents of Israel. "I myself have often met someone from Hevron posing as an Arab Bedouin from the area." 
"I think Itamar Shimoni saw the vulnerability of young children and brought to light the concern of every resident of Ashkelon," Rubin continued. 
"We do not have anything against the Arab residents of the State of Israel - they are some of our friends. But the situation today, you cannot know if someone will get up in the morning and just decide to attack." 
Yet, despite this show of support from Ashkelon residents, and a Channel 10 poll that found 58% of Israelis were in favor of the directive, reports have surfaced Sunday morning that Shimoni has backtracked. 
According to Yedioth Aharanoth, Shimoni now plans to allow Arab workers to continue their construction projects, while children will be moved to community centers for the duration of the work - estimated to last a week. 
Although, he initially defended his decision, Shimoni has bowed to the pressure and come out Sunday calling Wednesday's move "ill-planned" and a hasty reaction to concerns from residents following Tuesday's deadly terror attack on a Jerusalem synagogue. 
"My decision was disproportionate," Shimoni stated, although he stressed, "overall I was attentive to parents, and under no circumstances did I given an order to expel Arabs from Ashkelon."