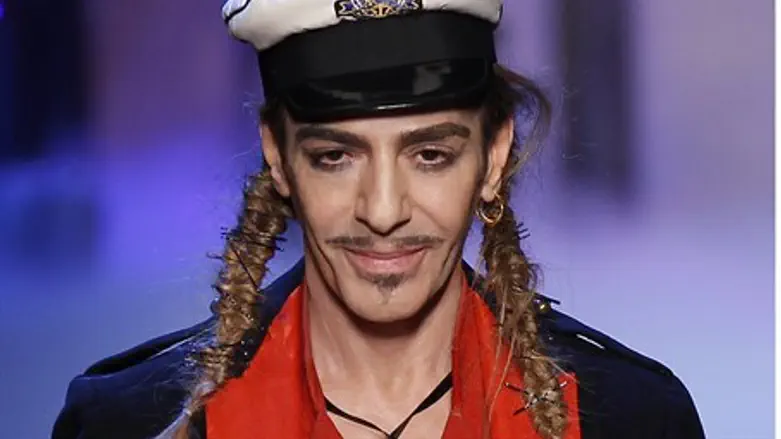 John Galliano
Reuters
British designer John Galliano - sacked three years ago by fashion house Dior over a drunken anti-Semitic rant in a Paris
bar - has lost his case for unfair dismissal, lawyers for both parties said on Tuesday.
A Paris labor court rejected his claim, and ordered him to pay a symbolic one euro each to Dior and the John Galliano label which was also named in the action; both are part of the same group.
Galliano's lawyer Chantal Giraud-van Gaver told AFP she was very disappointed by Tuesday's ruling, adding that she would be recommending that her client appeal the decision.
She had earlier said the claim was for between 2.4 million euros (over $3 million) and 13 million euros (over $16 million), depending on how the court chose to classify the dismissal.
Until his spectacular downfall, Galliano (54) had worked with Dior for nearly 15 years and was highly renowned. But his glittering career imploded in March 2011, after he was captured in a cell phone video hurling anti-Semitic abuse at customers in a bar in Paris's historic Jewish quarter.
The Paris criminal court in September 2011 found him guilty of proffering anti-Semitic insults in public - an offense under French law - on two occasions in February 2011 and October 2010.
In an altercation caught on film Galliano is heard saying "I love Hitler," as well as "people like you would be dead. Your mothers, your forefathers, would all be (expletive) gassed."
Although he faced a maximum of six months in jail for the charges, Galliano received a far lower sentence with suspended fines totalling 6,000 euros ($8,400) after the court accepted he was sorry for his actions, which he claimed were due to alcohol and drugs.
After his 2011 anti-Semitic outburst Galliano was silent for two years until finally giving an interview to Vanity Fair, which he claimed was his first ever sober interview.
"It's the worst thing I have said in my life, but I didn't mean it," said Galliano of the statements. "I have been trying to find out why that anger was directed at this race. I now realize I was so (expletive) angry and so discontent with myself that I just said the most spiteful thing I could."
The flamboyant designer was announced last month as the new creative director of Maison Martin Margiela, in a move to try and restart his shattered career.
Described by his new employer as one of the "greatest undisputed talents of all time," the anti-Semitic designer's first collection for the avant-garde Margiela label is due on the Paris catwalks in January.
AFP contributed to this report.