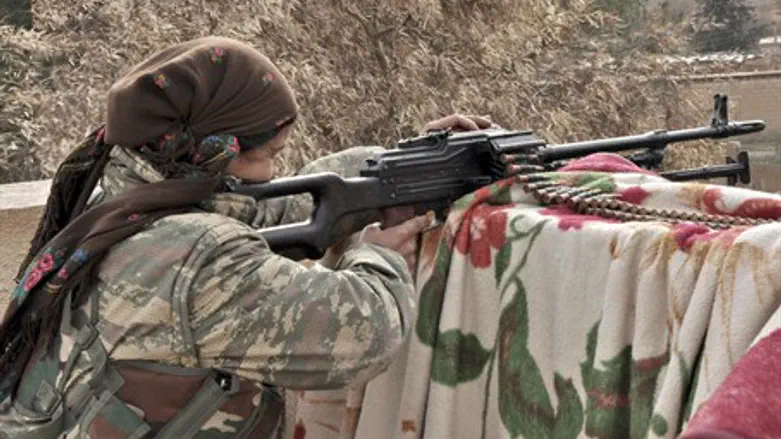 A female Kurdish YPG fighter takes aim at the
Reuters
Kurdish fighters have issued an urgent call to arms amid warnings of an impending massacre by the Islamic State terrorist group in northern Syria.
The Kurdish People's Protection Unit (YPG) has been locked in a fierce battle with IS and other Islamist groups almost since the start of Syria's civil war. Despite being relatively isolated and receiving no foreign aid from any states the YPG has proven perhaps the most effective force in pushing back against IS.
But as the jihadis' focus shifts to consolidating power in northern Syria the Kurds have found themselves under fiercer attack than ever. 
Some 70,000 Syrian Kurds have fled into Turkey since Friday when IS captured dozens of villages near the border as part of a push to control the entire border area between Turkey and Syria.
IS forces are now reportedly advancing towards the Kurdish frontier town of Kobani, known as Ayn al-Arab in Arabic. Recent bloody clashes have seen at least 39 IS terrorists and 27 Kurdish fighters killed, according to the Syrian Observatory for Human Rights.
At least 11 civilians have also been executed by IS, which has captured around 64 villages around Kobani and has advanced to within 9 miles (15 kilometers) of the town, the Observatory reported.
On the way, IS has been carrying out an all too familiar ritual of brutal killings in an attempt to cow the local population into submission. Reports of gruesome public beheadings - IS's trademark mode of execution - have already been reported by refugees.
"Rather than a war this is a genocide operation," Ibrahim Binici, a leading member of Turkey's pro-Kurdish HDP party told Reuters. "They are going into the villages and cutting the heads of one or two people and showing them to the villagers."
Binici called for international military intervention, branding the slaughter and accompanying international silence a "shameful situation for humanity," and informing journalists that five of his party's MPs will be mounting a hunger strike outside the UN's offices in Geneva.
But although the US has said it is willing to launch airstrikes against IS in Syria, as it is currently doing in Iraq, the Syrian regime has so far blocked such action by demanded any military operation be carried out in cooperation with its forces. Western states view that as unacceptable, given that the Assad regime is responsible for even greater war crimes during the three and a half year civil war than IS.
The Kurdistan Workers' Party (PKK), which has fought an on-off insurgency against Turkey for three decades, has issued a renewed call for Kurdish youth to enlist as fighters to save Kobani. The YPG is in fact the Syrian branch of the PKK.
"Supporting this heroic resistance is not just a debt of honor of the Kurds but all Middle East people. Just giving support is not enough, the criterion must be taking part in the resistance," read a statement on its website.
"ISIL (Islamic State) fascism must drown in the blood it spills … The youth of North Kurdistan (southeast Turkey) must flow in waves to Kobani," it said.