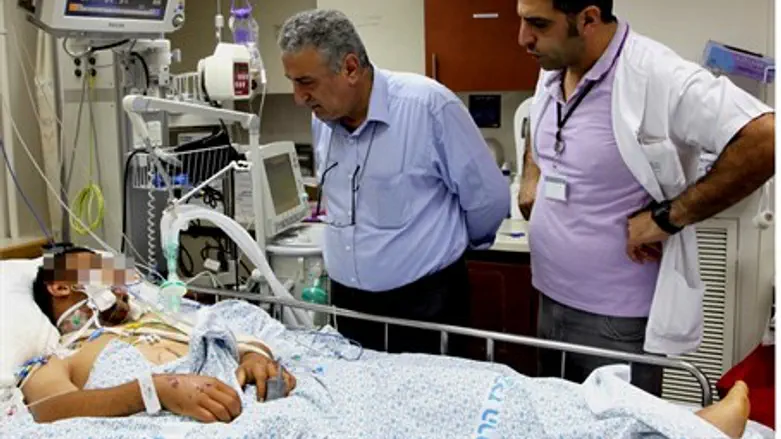 Dr. Kamal Al-Labwani (center) visits Ziv Hosp
Ziv Medical Center
Dr. Kamal Al-Labwani, an exiled leader of the Syrian opposition who is currently visiting Israel, on Thursday visited the Ziv Hospital in Tzfat, where many Syrians who were wounded in the civil war are hospitalized.
Al-Labwani praised the humanitarian aid that has been given to wounded Syrians and thanked the staff at the Ziv Hospital for their dedication to the patients.
"I am grateful for the dedicated medical care given at the Ziv Medical Center to wounded Syrians, my people, who were hurt during the war. This moving humanitarian gesture is an opening for rapprochement between the two peoples and hope for peace on quieter days," he told the deputy director of the Ziv Medical Center, Dr. Calin Shapira.
"I came to the Ziv Medical Center to thank the hospital for treating hundreds of men, women and children who received medical care at the highest level and emotional support in light of the serious incidents they experienced in the war in Syria. This treatment is not only for the specific child or woman, but for all of Syria, that's how we feel and everyone knows it and talks about it. Assad in Syria claims that the Israelis are the enemy, but here in the hospital we who Israel really is. I ask: who is really the enemy? Assad who murders our people, or Israel which treats them?" continued Al-Labwani.
Throughout the civil war in Syria, Israel has treated hundreds of wounded Syrians who have been brought to its borders.
As of last week there were  12 Syrians undergoing treatment at the Ziv Medical Center, including a 12-year-old boy. Other hospitals in northern Israel have received Syrian patients as well, including the Western Galilee Hospital in Nahariya and the Rambam Hospital in Haifa.
Dr. Al-Labwani is one of the liberal human rights activists in Syria. He served several terms of imprisonment while living there because of his commitment to promoting democracy in Syria.
Shortly after his release from prison in 2011, Al-Labwani fled to Jordan, and received political asylum in Sweden. Since then he has mainly operated from Turkey.