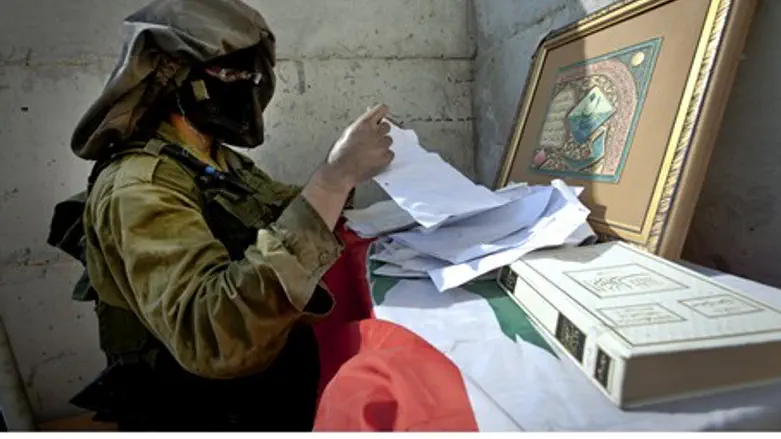 Unit 8200 in training drill
Flash 90
Forty-three reserve force captains and soldiers in the prestigious Unit 8200, an elite intelligence corps responsible for collecting SIGINT (signal intelligence) and code decryption, have submitted a letter of insubordination to the Israeli media.
The soldiers, who include extremist leftist activists, complained that their service to Israel's security "harms innocents."
"There is an idea that serving in the intelligence corps does not include moral dilemmas, and only contributes to the lessening of violence and harm to innocents," wrote the insubordinate soldiers in their letter. "But during our military service we learned that the intelligence corps is an inseparable part of the military control of the territories (Judea and Samaria - ed.)."
According to the soldiers, the Arab residents of the region are "completely exposed" to Israeli spying and surveillance, adding "as opposed to Israeli citizens of citizens of other countries, there's no oversight on methods of (intel) gathering, surveillance and use of information in regards to Palestinians, whether they're involved in violence or not."
"The intelligence (corps) allows continued control over millions of people, a deep and penetrating supervision and invasion of (privacy in) most aspects of life. All of this does not allow a normal life, fuels more violence, and distances the end of the conflict," claimed the signatories.
IDF counters the claims
In response to the letter, the IDF Spokesperson Unit noted "Unit 8200 has worked from the day of its formation to gather intel, which allows the IDF and security sources to fulfill their missions, and on a daily basis aids in the protection of citizens of the state of Israel."
"The Unit acts through a variety of means and on many fronts, while using methods and rules aimed solely at the necessities of intelligence," added the statement, responding to the claims of invading privacy in numerous aspects of daily life.
The statement added "those serving in the Unit are certified after a strict identification process, in training that has no equal in the intelligence community in Israel and abroad, during which contents learned with a special emphasis on ethics, values and work regulations are imprinted."
"These are implemented effectively through the military service of the soldiers and captains in the Unit, and are overseen through constant inspection by commanders of different rankings," said the statement.
The statement noted that Unit 8200 has received great praise, through various military awards and prizes.
Sending the insubordination letter to the Israeli media before turning to their commanders or relevant IDF sources with the complaints hints at a lack of seriousness to the claims, added the IDF Spokesperson Unit statement.
In particular, it noted "regarding the claims about harming innocents, the process of approving targets in the IDF is long and strict, and also takes those not involved into account."