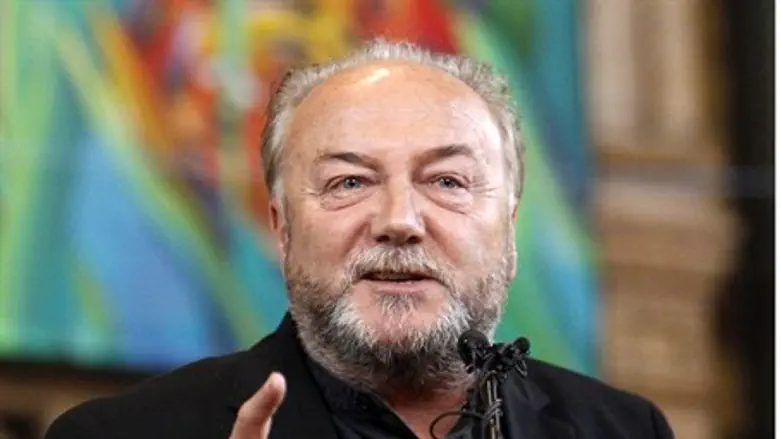 George Galloway
Reuters
Israel's ambassador to Britain, Daniel Taub, visited the city of Bradford on Monday, following controversial comments by Bradford West MP George Galloway who declared the constituency an "Israel free zone" during a speech.
According to the Telegraph & Argus, Taub said he was in the city as a result of invitations from within its community and would be using the visit to hold a series of meetings with councilors, faith leaders and other groups.
That invitation came as a result comments from Galloway that the city should become an Israel free zone, without academics, tourists, goods or services from that country.
Taub said his first impressions of Bradford was of a city with different attitudes to those promoted by Galloway.
He told the Telegraph & Argus, "My sense, even from a short visit, is that the real voice of Bradford is not the voice of exclusion we hear from George Galloway but the voice of inclusion.
"It is an important model of how people from all faiths and backgrounds can live and work and co-operate together," added Taub.
"That is an important model for our region as well," he said.
British police have already launched an investigation against Galloway over the speech which caused outcry on social media after being posted online.
In it, Galloway said, "We have declared Bradford an Israel-free zone. We don't want any Israeli goods. We don't want any Israeli services. We don't want any Israeli academics coming to the university or college. We don't even want any Israeli tourists to come to Bradford even if any of them had thought of doing so. We reject this illegal, barbarous, savage state that calls itself Israel. And you have to do the same."
Taub told the Telegraph & Argus that his message to Galloway was, "If you look at our region, the real conflict is not between Sunni and Shia, or between left and right. It is between the past and the future."
"I would say don't be one of the people who tries to draw the region back into the past but join us in trying to make a better future for all the people in the region," he added.
Galloway has a long history of anti-Israeli bigotry. He was branded a racist when he stormed out of a debate after finding out that his opponent was Israel, saying "I don't debate with Israelis."
In addition, he has publicly aired several bizarre anti-Israel conspiracy theories, including claims that Israel was engineering unrest in Ukraine, and that the Jewish state had given chemical weapons to Al-Qaeda - comments he then denied making despite them having been recorded.
Taub's visit to the city has been arranged amid tight security and he said, "Bradford encourages dialogue and I believe in that too, that is why I have come."
"I am here because I was invited to come by the people of Bradford, who sent a clear message that George Galloway does not represent them," he told the Telegraph & Argus.
"I don't believe George Galloway is the real voice of Bradford, there is a long history of co-operation between Bradford and Israel," Taub said.
Pro-Israel activists last week released a video of their recent "infiltration" of Bradford as an initiative to counter Galloway's comments.